Honda Navi On-Road Price Is More Than Rs. 50,000/-
The Honda Navi was launched at the 2016 Auto Expo with an ex-showroom price of Rs. 39,500/-. But local taxes and high-priced basic accessories stretch the on-road price beyond Rs. 50,000/-.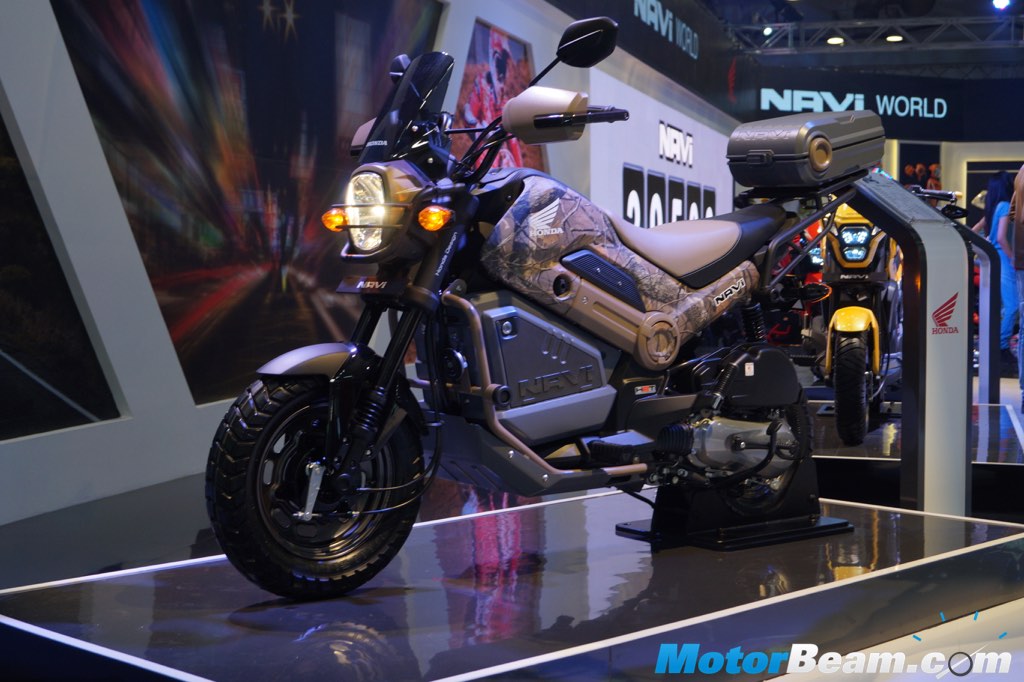 Honda surprised everybody at the 2016 Auto Expo by launching a brand new scooter-motorcycle amalgamation two-wheeler named Honda Navi, aimed at the youth. The idea seemed noble at the time as the bike looked purpose built to have fun and also carried an attractive ex-showroom price tag of just Rs. 39,500/-. The ploy worked and Honda garnered a healthy amount of eyeballs and 1000 bookings initially. But now Honda seems to have pulled a fast one on us as it turns out that the on-road price of the bike, after factoring in all the taxes and accessories, will cross Rs. 50,000/-.
The base model Honda Navi is priced at Rs. 39,500/-, but the registration and insurance costs take the price up to Rs. 46,000/-. The real bummer is that Honda will charge a premium of Rs. 5000/- for basic essential accessories such as the side stand, number plates, leg-guards and engine guards. With customer deliveries set to begin, buyers will have to shell out a further Rs. 10,000/- to bring their Navi home. This also means that the on-road prices of the special edition Navi Street, Navi Adventure and Navi Off-Road are most likely to cross Rs. 60,000/- since they have several accessories on board.
Thus it's now apparent that the Honda Navi is not actually as affordable as the company portrayed it to be. The plan to extract out more money is not expected to go well with the customers, especially the ones who have already booked the crossover bike. Honda charges extra for basic essentials on all its bikes. The Navi is Honda India's first home-grown product which is genuinely an interesting concept.
The Honda Navi is powered by an 110cc single-cylinder engine with HET (Honda Eco Technology), the same engine as on the Honda Activa 3G. The engine develops 7.83 BHP of power at 7000 RPM and a peak torque of 8.96 NM at 5500 RPM, mated to the V-Matic transmission (CVT). The Navi has generated positive response from the customers, with deliveries starting next month. The Honda Navi can attain a top speed of 81 km/hr.
Honda Navi On-Road Price
– Honda Navi on-road price will cross Rs. 50,000/- mark after taxes, insurance and accessories
– The Honda Navi was launched at the 2016 Auto Expo with a price of Rs. 39,500/- (ex-showroom, Delhi)
– Honda has priced essential accessories such as leg guards, number plates and side stands at a very high price
– Deliveries of the Honda Navi are set to begin in April 2016