Honda Showcases Project 2&4 Concept At 2016 Auto Expo [Live]
Honda has showcased a very eye-catching concept and it is the Project 2&4 vehicle that gives you the pleasure of a 2-wheeler but on 4 wheels.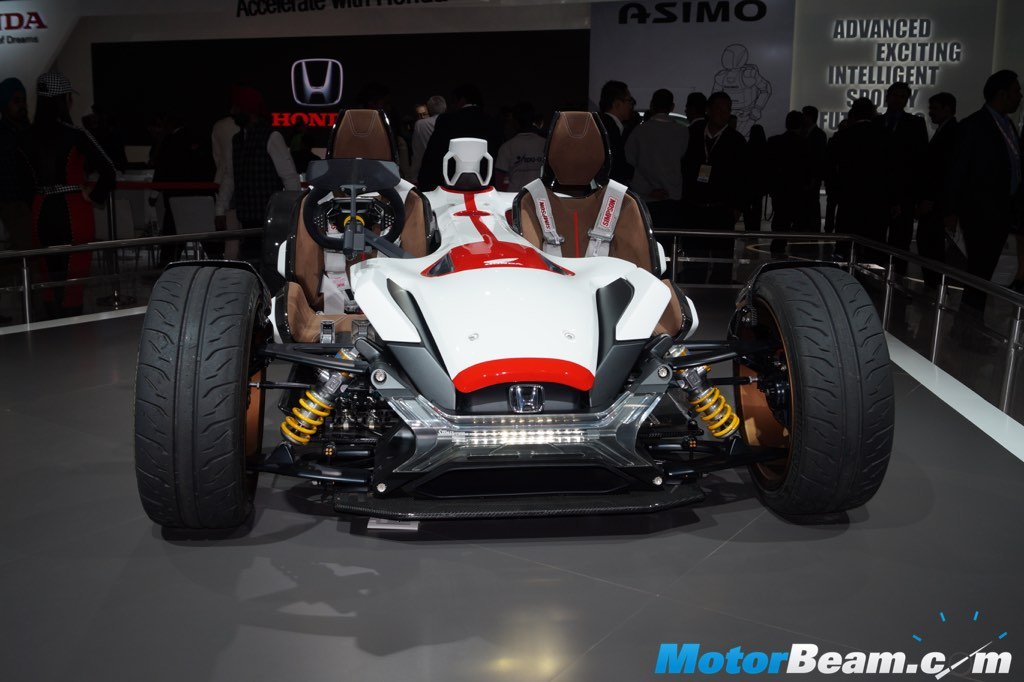 Is it a bird? Is it a plane? No, it is Honda's cabin-less sports car, the Project 2&4 concept that has just been showcased at the 2016 Auto Expo. The vehicle looks agile just like any other race car but what is so special about it? Well, it offers the freedom of a motorcyle and the manoeuvrability of a car at the same time. The vehicle won one of Honda's internal design competitions that took part within the company's global studios and consisted of 80 engineers and designers.
The concept comes with a central aluminium backbone structure while the floor is made up of carbon fibre. The vehicle also gets a central fuel tank and bike-spec Ohlins adjustable dampers along with a double wishbone suspension. The Project 2&4 also gets bike-sized brakes. The concept comes with a single seat but there is a possibility to fit a second seat by unbolting some parts of the floor. Honda has done a clever thing by making the paddles adjustable instead of the seat, which is a weight saving measure.
The Honda Project 2&4 Project is powered by a 999cc, V4 engine that belts out a massive 212 HP of power at 13,000 RPM and it comes mated to a 6-speed dual clutch transmission. The vehicle weighs only 405 kgs meaning it comes with a splendid power-to-weight ratio. If put into production, the Project 2&4 will compete with the likes of the Caterham 620R and Ariel Atom.
Honda Project 2&4 Concept
– It is a cabinless sports car
– It comes with a single seat but you can fit one more
– Powered by a 999cc, V4 engine producing 212 HP