Hyundai Creta Based Kia SP Concept Showcased At Auto Expo
Kia Motors  showcases the SP Concept, an upcoming Hyundai Creta based compact SUV being prepared by the brand for its Indian entry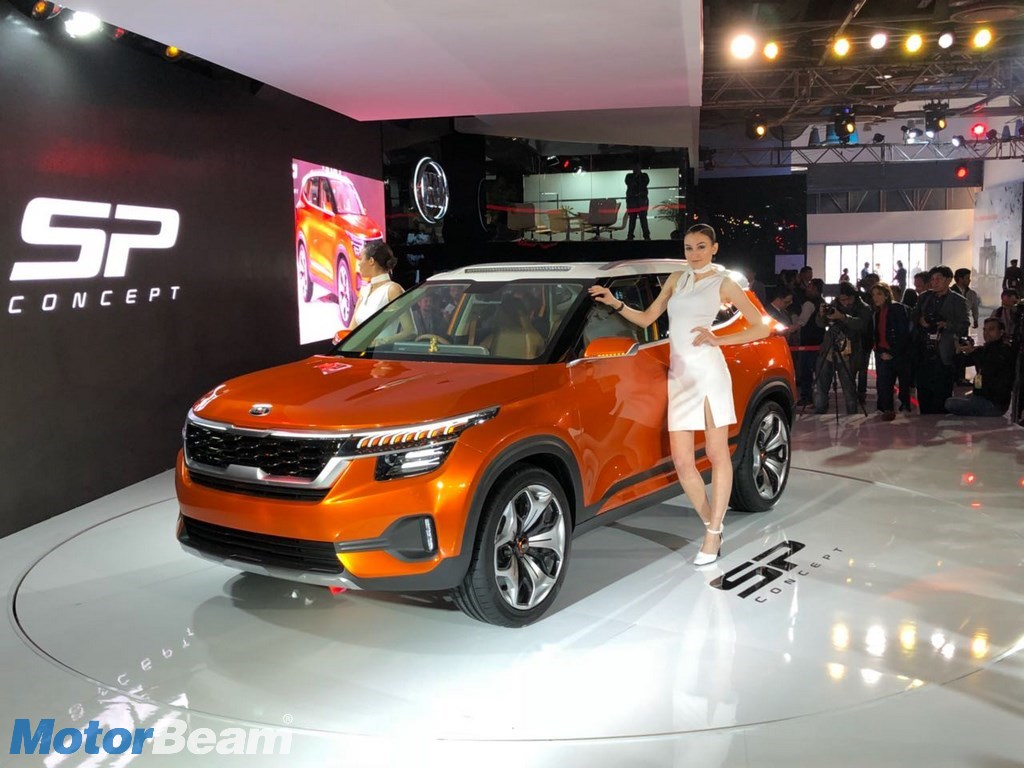 Concept-car unveils at Auto Expos was a big deal in earlier times. It used to be the only window to its future products provided by an auto company to the general public. The idea somehow lost its significance over the time but the tradition to showcase fancied up production-ready cars still remains popular amongst carmakers. Therefore at the 2018 Auto Expo, Kia has decided to announce the global debut of the concept car version of its Hyundai Creta based compact SUV, dubbed as the Kia SP Concept.
The unveiling of the Kia SP Concept at the Delhi Auto Expo 2018 marks the significance of the Indian market in Kia's future business plans. Based on sister brand Hyundai's Creta SUV, the Kia SP Concept showcases its radical styling, sporty stance along with DRLs and positioning lamps that blend into the trademark "Tiger Nose" grille.  Other usual conceptesque tidbits such as handle-less doors, mighty big alloys with thin rubber, ultra-high ground clearance and LED lights adorn the Kia SP.
The car, though looks production ready, is a bit far away from hitting the streets as Kia will only commence its retail sales in India in the second half of 2019. The Korean brand has already decided to invest in Andhra Pradesh for a full-fledged production facility and research center, where it will produce around 3,00,000 cars per year.
Along with the concept car, Kia has also presented the Picanto, Rio, Stomic, Cerato, Ceed, Soul EV, Cadenza, RWD Stinger GT sports car, Mohave, Sorento, Sportage SUV, Grand Carnival, Niro Plug-in Hybrid and the Optima at the Auto Expo.
Like all other cars in its line-up, the Kia SP Concept and therefore the upcoming small SUV will be based on the Hyundai vehicle – in this case, the Creta – and thus will share its mechanicals and the platform. The production version of the SP concept might retain the contrast roof and a higher mounted number-plate, along with the LED tail lamps and headlamps design. The car also contains a lot of design similarities to the likes of some of the other SUVs in the Kia range.