July 2013 Car Sales Figures & Analysis
The Big Picture
This period of the year has always been a slow seller in the past for the Indian automobile industry and July 2013 has been no different.
Industry recorded fall in sales of 5.61% over the last month and 8.11% fall in sales as compared to same month of the last year.
Except few companies with their brilliant recent products launches like Ford, Honda and Renault, everyone else has struggled to sell their cars.
The rise in YoY sales figure of Maruti Suzuki this time is quite misleading because the company was facing trouble with their workers at Manesar plant same period last year and hence sales figure was hampered. Considering that, today's sales figure actually has negative sentiments hidden inside it contradicting witthe h positive superficial value.
There has been Tom and Jerry run going on for the 4th, 5th and 6th spot in the past few months between Toyota, Honda and Tata Motors. This month Toyota managed to clinch the 4th place which is very closely being chased by Honda and Tata Motors.
As usual Maruti Suzuki tops the chart followed by Hyundai at second place and Mahindra & Mahindra at number 3.
In the following table, green arrows are outnumbered by red and yellow arrows. Hopefully upcoming festive season and good monsoon might bring some life back into this market.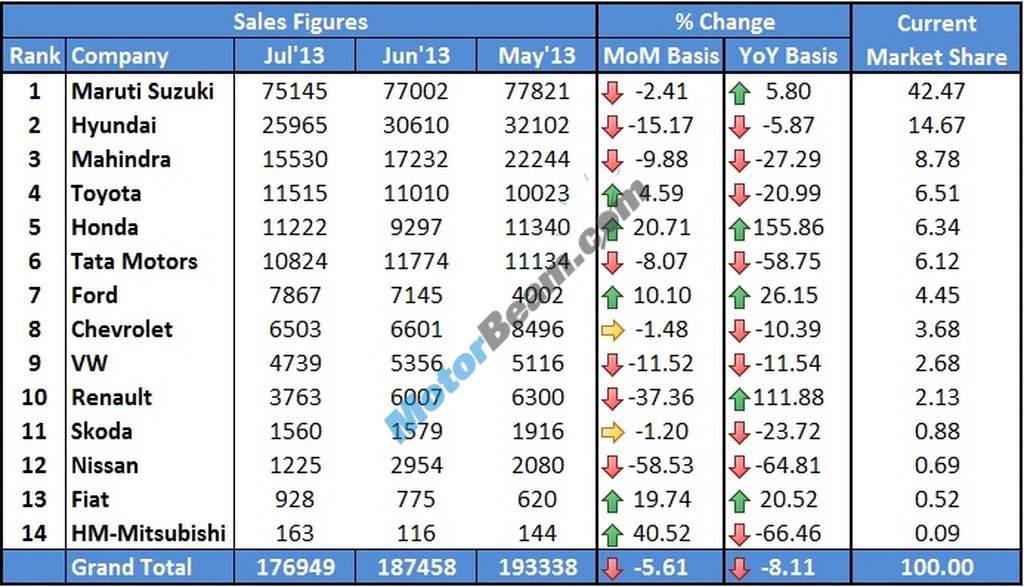 As usual we begin our Top 20 table with Alto 800, even though its sales has dropped drastically over the past few months, followed by its own siblings.
Swift gave away its place to Dzire and WagonR and that too by big margin and secured fourth place. It is quite unpredictable that why it would have happened.
Ford Ecosport and Honda Amaze are marching into Top 10 ranks and Renault Duster is going the other way rapidly.
Hyundai Santro is losing its steam since the past few months and it is quite inevitable for an age old car. But company acted fast and rolled out a special edition with some discounts and offers, recently.
Company Wise Break-up
Maruti Suzuki has been the leader of the Indian car market since long time and every other company desires to be that. Thus every company has pitted their products against Maruti Suzuki in every possible way. The fall in sales is because of availability of competitive alternatives and which is further added upon by the falling demand of cars in the overall market. Company recorded a sales figure which is marginally more than July 2012, the month which witnessed labor outrage and strike at plant. Also company's market share is now hovering marginally over 40% mark. The very same company used to have more than 50% market share in the past.
There is a sudden drop in sales figure of Hyundai's petrol only, entry level models like Eon, i10 and Santro in July. Thus it gave the company a setback of 15.17% compared to the previous month and that of 5.87% compared to the same month of last year.
Mahindra's aggressive strategy have seemed to be working after the launch of XUV500 but then things never remained the same and now sales figure of that has struck the barrier of just 2000 units or less per month. Same is the case with other UVs from company. Rising prices of diesel, increased taxation and monsoon has jointly hampered the performance of company in July.
Tata Motors is trying to prevent the ship from sinking by plugging the holes all around, but those efforts are not proving to be enough. At least the sales figure of the company says the same. Company recently launched updated product lineup but those cars are very hard to find running on roads. But it is good to see that the company is giving in some efforts than giving up.
As all the models from company are performing with constant pace, company has recorded marginal growth in sales as compared to previous month. But the scenario changes when we compare these figures with sales figures of the same month last year. Since the launch of Maruti Suzuki Ertiga, Toyota Innova has lost some part of its share from the family as well as taxi utility segment.
Recent news about Honda prioritising Amaze's production over the other cars made intentions of the company very clear. As company felt the threat coming in from altogether different category of compact SUVs and now they want to convert all of their bookings into deliveries. Hence company once again pushed hard and delivered highest number of Amaze in single month, since launch.
For GM India, only Chevrolet Beat and Enjoy are the only two models which managed the four digit sales figure. Rest all the models are facing their own fate as some of the models are fighting with technical and legal issues and some are too old to appeal to anyone. With Sail Twins, company had a good opportunity to rope in substantial number of customers, we hope they don't turn it into wasted opportunity.
Ford has received huge amount of bookings for its latest, Ecosport, model. But they are still opting to give an equal priority to export markets as well. This is causing a waiting period which stretches upto staggering 9-10 months. Company might be doing this just because of the time delay caused in launching the product. They might be willing to satisfy both the domestic and export markets and keep both the customers interested. Overall this strategy of the company is giving them a mediocre growth opportunity.
This time Volkswagen Polo faced a decline in sales when compared to some previous months, which has in turn reflected into company's overall performance. Surprisingly demand for Passat has witnessed surge which might be result of some kind of bulk booking.
Skoda's sales graph is going flat for past many months but this situation is expected to change soon with the launch of next gen Octavia.
After starting up a new inning with Nissan Micra twins, expectations from the brand were little high. But company failed to deliver in the very next month of the launch of the new Micras. Along with Micra, failure of Sunny sedan too has caused such weak sales figure in July for Nissan.
The day has come when Duster is not able to pull the company's fortune further on its own.
As the competition has reached the next level, the overpriced Duster has started to taste the failure after long time since launch.
Category Wise Break-Up
Gainers vs Losers
Podium Finishers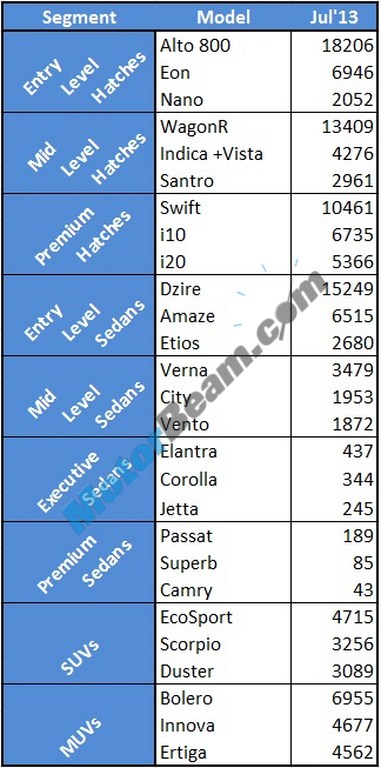 Watch List
Things To Look Out For
Will industry recover sooner because of upcoming festive season and good monsoon?
What will Maruti Suzuki do to defend their falling market share?
Mahindra had a bad month in July, how will they recover?
Renault, will they think of launching a low cost Duster?
Can Chevrolet sort out the present technical problem with Sail twins soon?