Maruti Alto No Longer Highest Selling Car
[flickr size="center" float="medium"]http://www.flickr.com/photos/motorbeam/8056280728/[/flickr]
The Maruti Suzuki Alto has been de-throned from its position as the highest selling small car in the world by the Volkswagen Gol. The Alto held that position for two years, along with it being the highest selling car in India for 8 years. The Volkswagen Gol has been the highest selling car in Brazil for an astonishing 18 years! And now it overtook Alto's sales in India with 2,93,293 units sold in Brazil while the Alto managed just 2,86,833 back home in 2012.
The Indian market is struggling for sales this year, and also with soaring petrol prices, the demand for petrol cars too has dwindled. The sales of the Alto went down by 8 percent in 2012. With a new generation Alto launched a few months ago, after a massive 12 years, the sales have recovered slightly. But in April, the sales had dipped so low that the Swift out sold the humble Alto. Another reason for this is that the sales of diesel cars has grown by 40 percent in 2012, while petrol cars sold 15 percent lower than 2011.
Many reasons resulted in lowering the sales of the Maruti Suzuki Alto in India while the sales of the Volkswagen Gol flourished in the largest small car market in South America, Brazil. With trends in the Indian market changing and shifting towards diesel cars and petrol cars costing more and more to run, even during the festive season last year the sales of Alto struggled. But with the launch of the new version, Alto 800, it is expected that it may re-gain its position as best seller in 2013. Third place was taken by the Fiat Uno with 2,55,838 units sold in 2012.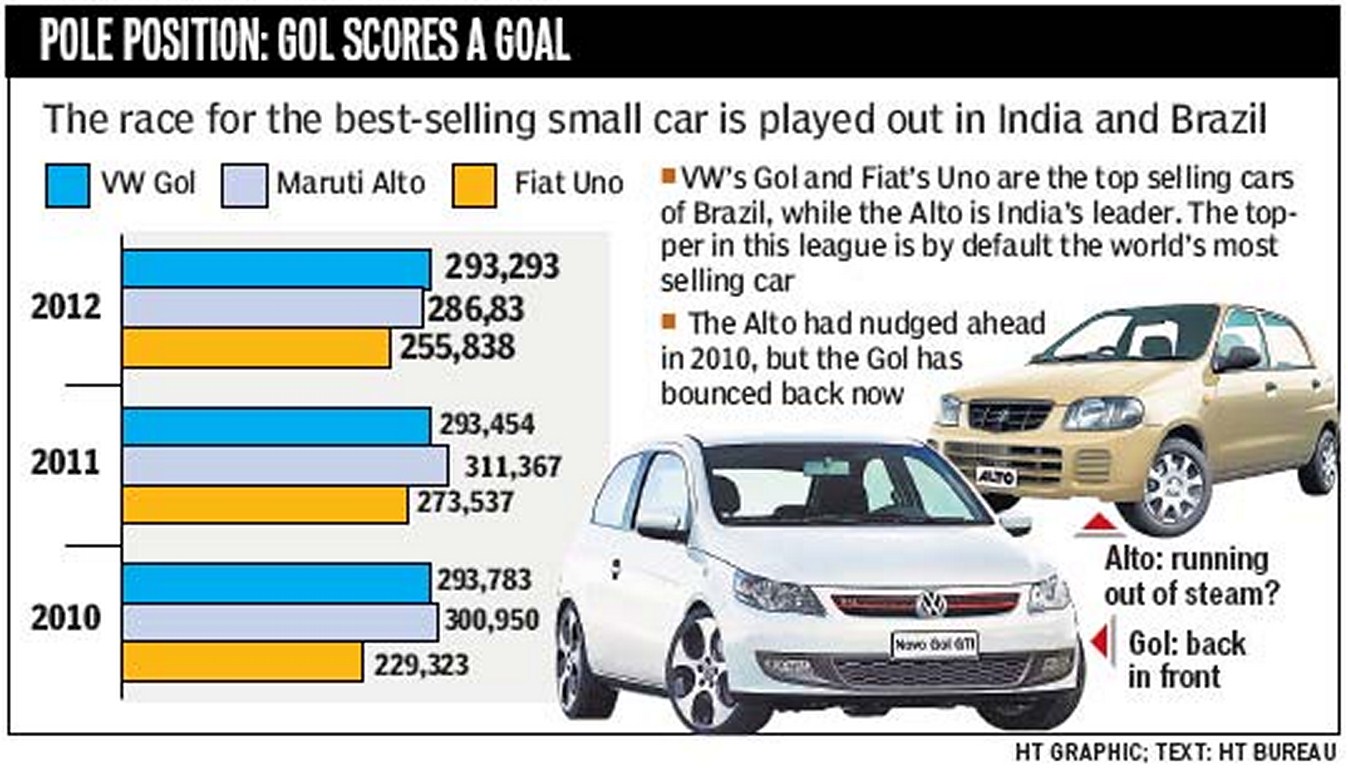 Source – Hindustan Times