Maruti Ciaz Sales Hit 2099 Units In July [C-Segment Sales]
The C-segment sedans are constantly losing out to newer segments in the same price range. The Honda City continues to lead the pack with the Maruti Ciaz' performance taking a massive blow.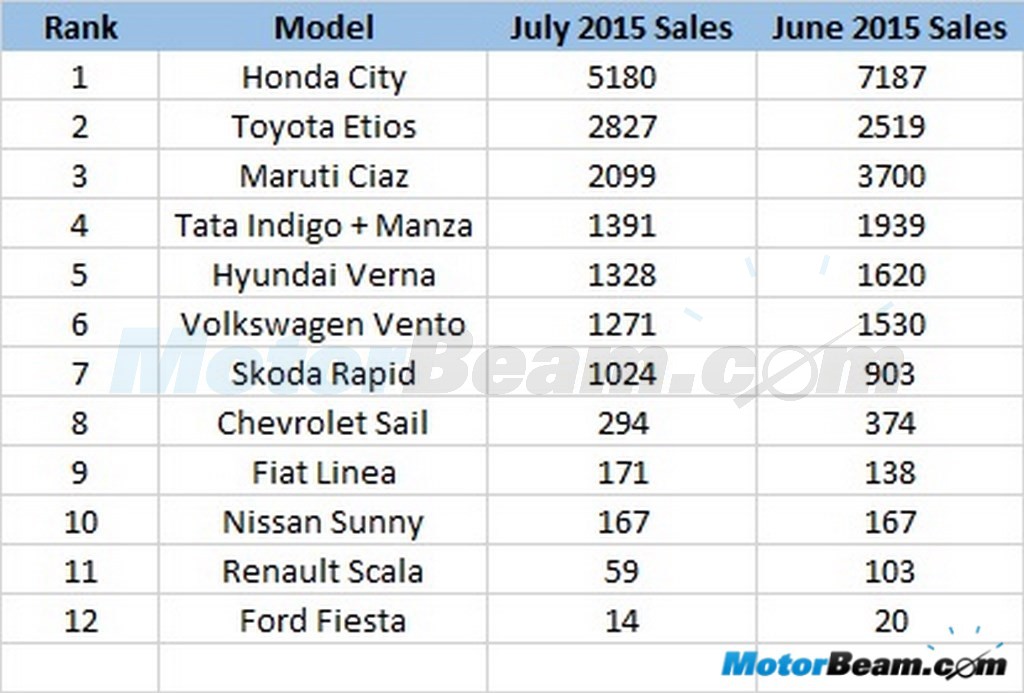 Competition in the C-segment was very hot about a year back. But as time passes by, popularity of C-segment sedans is going down with customers opting to buy compact SUVs that are priced in the same bracket. All companies retailing vehicles in this segment need to update their products in order to get sales going in full swing once again. When talking about July 2015 sales, the Honda City to no surprise led the pack selling 5180 units. Second position was taken by the Toyota Etios having sold 2827 units. The Maruti Ciaz only came in at number three with its sales surprisingly dwindling down to 2099 units from June 2015's figure of 3700 units.
Fourth spot was taken by the Tata Indigo and Manza models having found 1391 buyers mostly in the rural parts of the country where these models continue to sell relatively well. Once the segment leader, the Hyundai Verna could only find 1328 new buyers in July 2015 with the sedan's popularity rapidly decreasing in the segment. The Volkswagen Vento managed to sell 1271 units which is quite close to the number achieved by the Verna. Following the Vento last month was its sibling, the Skoda Rapid which found 1024 new homes and was one of the few models in the segment that witnessed a rise in sales from June 2015.
Next came the Chevrolet Sail having sold just 294 units last month. The very capable Fiat Linea witnessed a slight rise in sales from June 2015, selling 171 units in July 2015. The two other siblings in the segment, the Nissan Sunny and Renault Scala took the 10th and 11th spots selling 167 and 59 units each respectively. The best driver's car in the segment, the Ford Fiesta as expected was last in the segment having sold just 14, yes, 14 units in July 2015.