May 2012 Sales Figures & Analysis
The Big Picture – The month of May 2012 has written down the same story as April 2012 as far as automobile sales are concerned. The trend of inclined favor of customers towards the diesel has started since last month and fear of petrol price hike further has shown its clear footprints in sales figures. Except Honda, all petrol only models lost large chunk in sales. As the petrol price hike of Rs. 7.5 came into effect at the end of the month, it will not reflect clearly in May months figures, only June months figures will reveal how big dent it has caused. We may see washout in the month of June, not by raining monsoon but by gaining petrol. After losing No. 2 position to Hyundai, now Tata Motors climbed down one more step and lost No. 3 position to Mahindra. Despite having more products to offer, catering tk different segments of the market, Tata Motors failed to resist the downfall. Except Honda (even with all only petrol cars), Toyota (with Etios twins gaining some grounds), Mahindra and HM, all companies carried the momentum of April2 012. Overall sales are down by 2.70% at 2,12,698 units.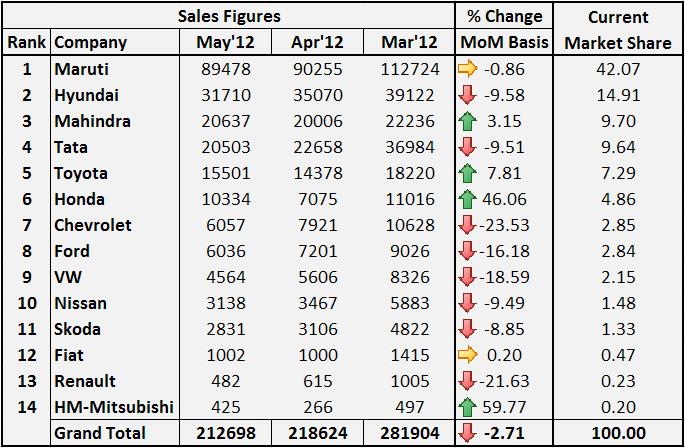 The TOP 20 chart has seen many ups and downs this month, some gained at the cost of the others. Alto clinched its crown back marginally from the Swift and swapped their positions. DZire stood at No. 3 as of April but gain in volumes is significant but it is shadowed by the Swift. Watch out, now there is Mahindra in the top 5 selling cars. Yes, the loss of petrol only hatchbacks made a path for the Bolero to reach the 4th spot, the highest it can achieve in current scenario. Highlight here is the Eon, Wagon R and i10, which lost so badly that they end up being at the bottom 3 of the top 10 list. At number 11 is Ertiga which has finally overtaken the Innova and is now gunning for being in the top 10 or even top 5 we may say. Nano is doing normal and seems to be performing as usual. Except the Nano, only Indica series has made it in the top 20 from Tata Motors, things look serious for them.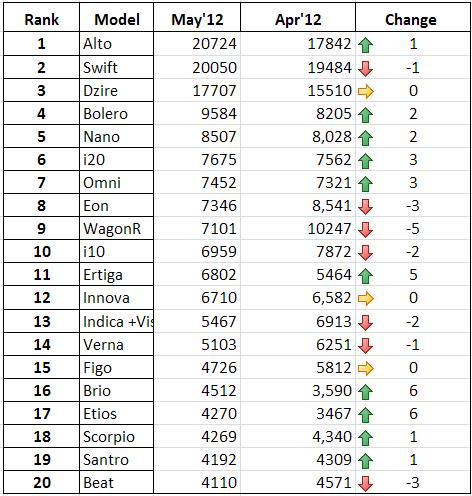 Company Wise Break-up – Now we will see the performance of top 2 position holders for the month of May 2012. The Maruti Swift platform is doing the trick. When Swift and DZire is selling like hot cakes, now the Ertiga has joined the brigade with sales of 6802 units, making a total 44,559 units being sold on the Swift platform. The success of Ertiga may have caused a little damage to the SX4, as some prospective buyers reportedly prefer more value for money Ertiga over the old SX4, strange. Have a look at the A-star and Estilo which are performing so badly that age old, technologically outdated 800 is selling much more than those.
Come to Hyundai and the picture is bit serious for the i10, bigger and costlier i20 has outsold it by a margin with its diesel grunt. Same is the case with the Eon registering fall in sale by 1200 units compared to last month. New generation Sonata is locked wrong gear as it seems and struggling to gain pace. Overall not so good picture for Hyundai this month also. Along with Honda it seems that Hyundai should also do some quick moves to bring diesel heart for the i10.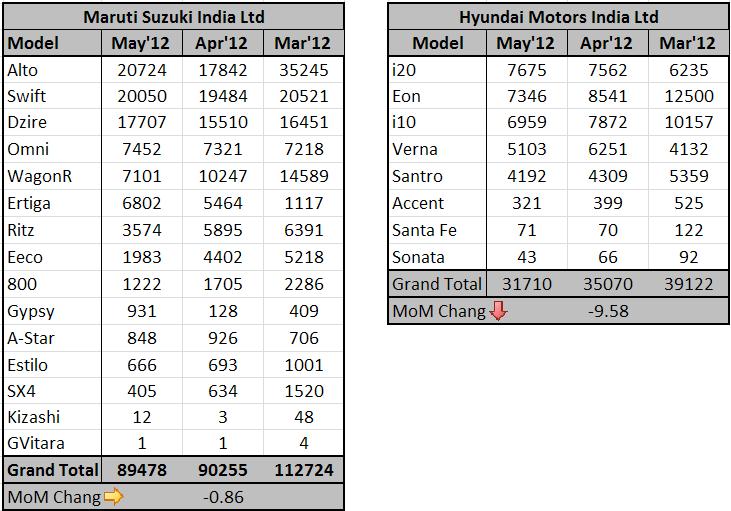 Thanks to the current situation and product line-up, Mahindra seem to be enjoying 3rd spot pushing Tata Motors back. All three rugged SUVs are performing above expectation for Mahindra. But the refreshed Xylo has lost its charm even in its new avatar and falling further below. No surprise, the Verito has gone down below 1000 mark as previous figures of 1500+ was evident of demand from taxi market.
Tata Motors is in trouble as it is failing short of applying brakes to its downfall. Every product except Nano has failed badly; Indigo range is outsold even by flat face Etios, Safari doing 552 units and Sumo also closing to 200 mark. This accounted for -9.51% loss for Tata Motors on MoM basis.

Every major product for Toyota has gained and thus showing growth of 7.81%. Things look good for the Etios twins as they are heading north once again after a downfall. The case of Honda is the strangest thing that happened last month. When everybody was afraid of how Honda will fair, with its petrol only portfolio, in the current scenario? But look in the table below and every product has gained, even CRV and Accord. The Brio is the product which will re-right the fate of Honda in India, when armed with diesel power. Well done both the Japanese giants.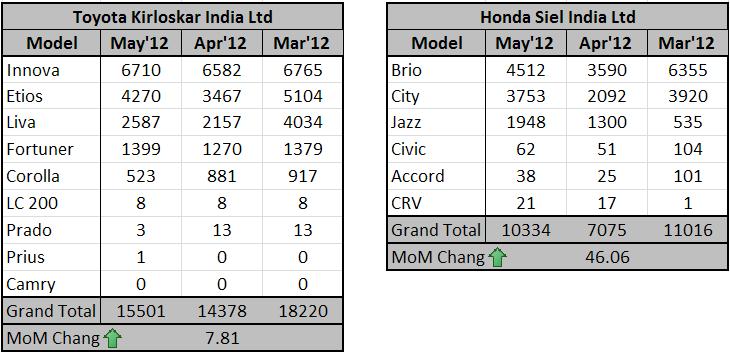 As compared to the Japanese duo, the story is altogether different for manufacturers from the other side of the globe. The need of the hour for GM is reviving the current product line-up. With Spark having lost its spark, Cruze losing its pace and about the Aveo duo we better not comment. Chevrolet will face serious trouble if they don't think of major makeovers. Cruze is going to be receive a new engine, while the Spark will follow and Aveo duo expected to be replaced by Chinese cars, let's see if all this helps GM to stand up. But next 3-4 months will be hard to swallow for them.
Ford with its limited range of products has recorded -16.18 % in this month. As we heard, the Figo is going to receive a minor upgrade soon and it's much needed now as sales are dropping since last few months. Good product placed badly is all we can say about the new Fiesta, who's game is spoilt by its pricing.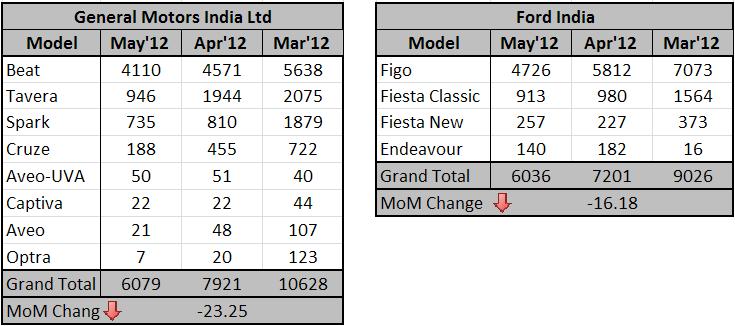 The Germans are also not happy this month as both registered negative figures. With hatchbacks not working for both and mediocre performance by other products it's a below average month for the German twins.

It seems that both the companies are failing short of expectations of the Indian buyer every now and then. Except one CAAAAR, every product from these two is not being received well. So, this makes a bad month for these two companies also. Scala – the CAAAR from Renault and Duster may show signs of life in the graph of Renault.

Not in terms of volumes but in terms of % change in sales, the picture is good at this end. While some Government order seems to have worked for Ambassador and discounts working for Lancer and Cedia, HM-Mitsubishi has shown a good recovery. Fiat is able to maintain its sales hovering above 1000 mark. The things were not so good for Fiat in terms of sales and service in the past, but now Fiat opening independent showrooms and pumping in life once again, things will improve over the period of say 6 months to a year.

Category and Body style wise Break-up – If we see a break up of pictures, segment wise, then 'A' segment is well driven by comeback of Alto scoring a positive growth. Then C1 and C2 is driven up by DZire and City respectively. Fortuner worked for fortune of D2 segment. All other segments showed a negative growth. This time also, the UVs have outnumbered sedans and with a good margin, accounting for 23% of the market as compared to 21% of sedans.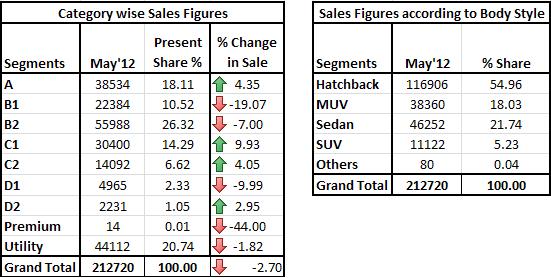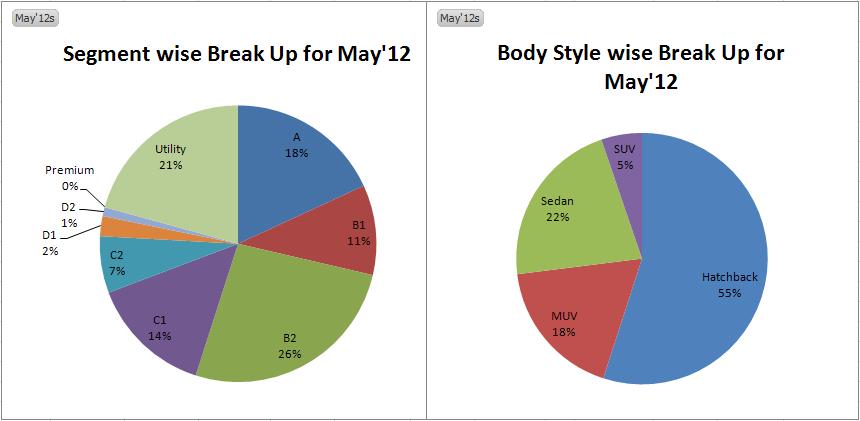 Gainers vs Losers – In gainers, its clearly visible that Honda has done well. Remarkable entry in gainers chart is the Lancer and Cedia, this might be because discounts that is being offered by Mitsubishi. No surprise Ertiga is also there in the table with a 5 positions gain. In losers, we can see the product was either hit by petrol fury or the products which are due for replacements.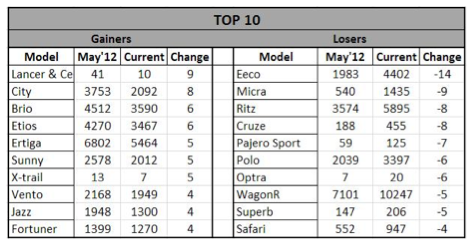 Things To Look Out For –
As the petrol price hike came into effect at the end of the month, June figures will reveal the after effects of it.
Government's take on diesel and diesel powered cars.
Forward march of the Ertiga.
Honda: current trend will remain or the bubble will burst?
Tata: Corrective measure to stop the downfall.
The monsoon effect.
Huge discounts being offered on petrol powered cars.