McLaren P1 Hybrid To Get 903 HP Of Power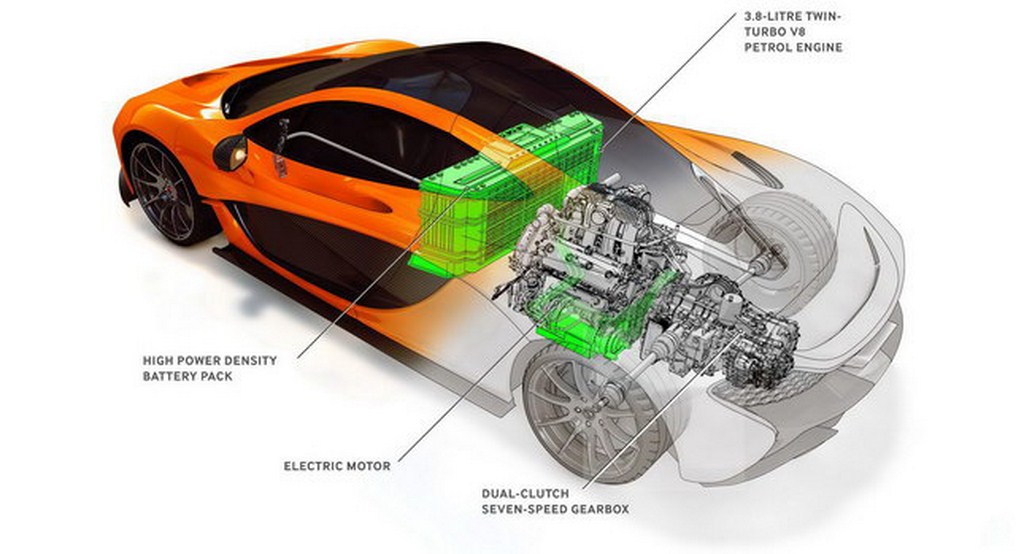 McLaren will be unveiling the P1 officially at the 2013 Geneva Motor Show in March 2013. The British manufacturer has revealed more information about the supercar's powertrain recently. The McLaren P1 is a hybrid supercar, which will take on the likes of the upcoming Ferrari F150 and Porsche 918 Spyder. The McLaren P1 features a twin turbo 3.8-litre mid-mounted V8 engine with an electric motor producing a combined maximum power output of 903 HP with an earth shattering 900 Nm of peak torque.
The engine that powers the MP4-12C is now upgraded for the P1 and churns out 727 HP of peak power at 7500 RPM with peak torque of 720 Nm from 4000 RPM. The engine has been re-tuned to optimize its cooling and durability with an addition of a unique casting for the electric motor. The lightweight electric motor alone has a power output of 176 HP with 260 Nm of torque mounted onto the engine, transmitting all the power to the rear wheels through a dual-clutch 7-speed transmission.
The 96 kgs battery sitting onto the underbody of the MonoCage carbon fiber chassis, stores all the energy. The McLaren P1 also features an Instant Power Assist System (IPAS), which is a boost system that provides full output to the engine. The hypercar emits less than 200 g of CO2 per km, thanks to the hybrid system. The supercar can also be driven on zero-emissions electric power alone for around 10 kms. It has a plug-in charger system that can top a discharged battery in two hours.
McLaren has also fitted a Drag Reduction System (DRS), inspired by Formula 1 and it works by engaging a button to minimize drag by reducing the retractable rear wing's angle by 23 percent. The Drag Reduction System gets deactivated instantly when the driver releases the DRS button or touches the brake pedal. The tech specs look impressive and the performance oriented machine is ready for its unveiling next month.