Peugeot 308 Is 2014 European Car Of The Year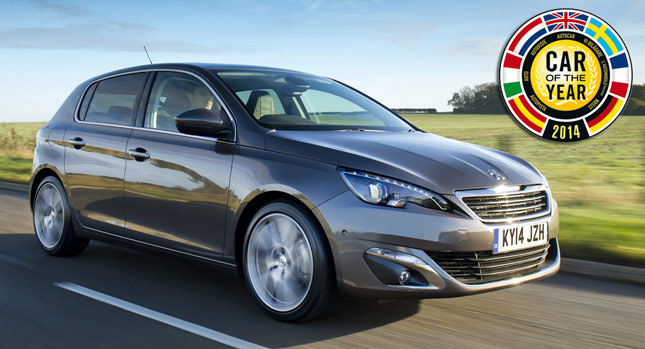 French car company PSA Peugeot Citroen have a great reason to celebrate in the midst of their struggling times. The Peugeot 308 has been crowned the 2014 European Car of the Year beating even the heavyweights like the Mercedes-Benz S-Class, Range Rover Sport and other cars from varied segments. To be awarded COTY just around the commencement of the Geneva Motor Show will definitely prove beneficial for Peugeot. The manufacturer is hoping the model will take them back to the top of the compact hatchback category. The Peugeot 308 is presently available in hatchback and estate body styles.
The Peugeot 308 or more prominently how it will be known for the next one year, 2014 Car of the Year, scored 307 points in the evaluation. This score is marginally higher than the 223 points the second place awardee, the BMW i3 scored. The market competitors in the hatchback space like the Volkswagen Golf or the Ford Focus were unfortunately not even in the top 30 list. This list was further shortened to 7 contenders. The final seven included two electric models, BMW i3 and the Tesla Model S (216 points) and also featured the super-premium Mercedes-Benz S-Class (170 points).
The panelists comprised of 58 journalists from 22 European countries. A top Peugeot official while collecting the award said, "With the new Peugeot 308, we were convinced that we had achieved a leap in concept, technology and quality and which would soon allow it a place on the podium for the category in Europe." The Peugeot 308 was launched in 2007 as a replacement model for the 307. The 308 concepts include 308 Hybrid with a diesel-electric heart and the 308 RCZ Coupe. The carmaker claims the 308 is sleek, elegant with every last detail designed to make your senses come alive. Now they can also proudly claim it to be the 2014 COTY!