Piaggio Displays Range Of Products At Auto Expo [Live]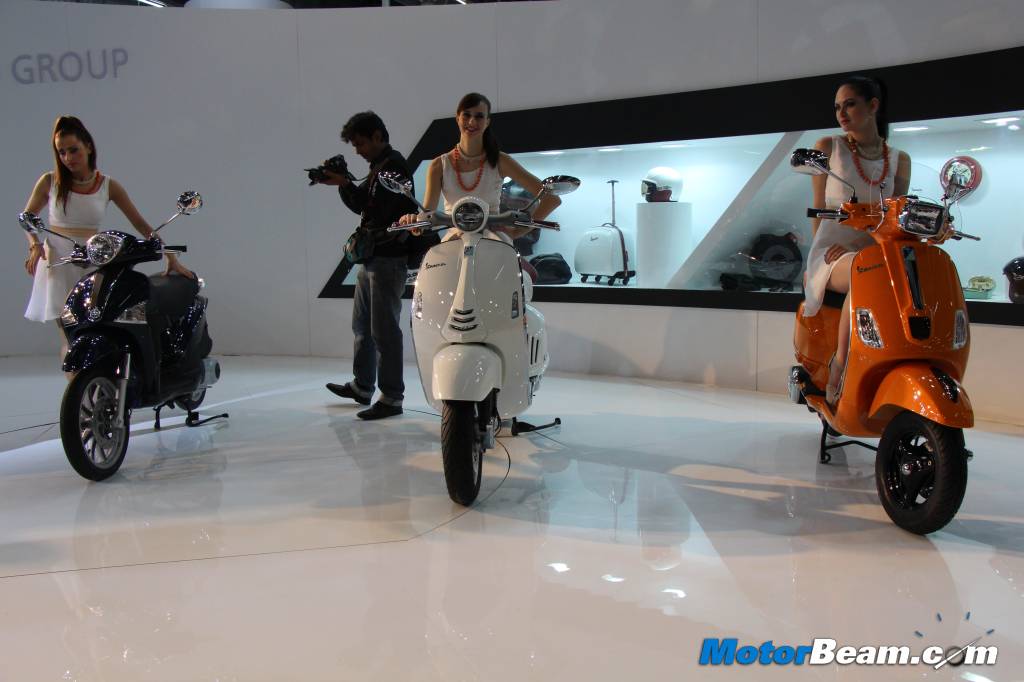 The Piaggio stall at the 2014 Auto Expo is buzzing with action. The company has displayed products ranging from scooters to sports bikes to commercial vehicles. The Piaggio Vespa is known as a niche scooter that created a whole new segment. This product has won the hearts of the youth and it is here gracing the Piaggio display. Along with the Vespa, Piaggio now plans to launch the Vespa S which is a more sportier version of the iconic scooter. After that comes the Vespa 946 which is known for its style. The Piaggio Liberty which is a very popular scooter abroad is also displayed here.
Coming to the sports bikes, Piaggio has brought down Moto Guzzi which is a very famous motorcycle brand globally. The Moto Guzzi has won many race titles including 14 world GP championships. The California 1400 Touring is loved by all those who like riding long distances in their bikes. This bike is available in two versions – Custom and Touring. Piaggio has also displayed Aprilia bikes. Aprilia is known as a very technologically-advanced sports bike maker. The Aprilia RSV4 is powered by a 1000cc V4 engine which churns out 180 HP of power.
Piaggio has also showcased a new concept commercial vehicle called NT3. The vehicle is still in the initial development stage and the manufacturer is conducting research and development. The NT3 is a 4-wheeler compact vehicle with two seats – one for the driver which is placed in the front centre and one seat at the back which can seat passengers. The Piaggio NT3 can be a good alternative to auto rickshaws and it can even compete in the new quadricycle segment.