Porsche Readying 918 Spyder Hybrid Supercar For 2013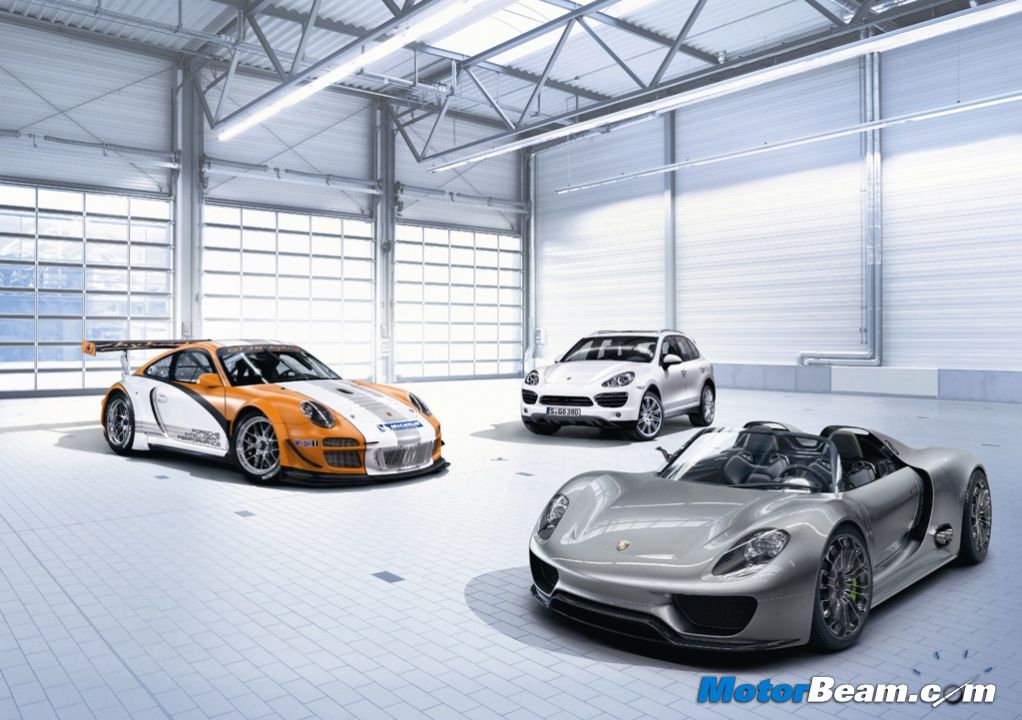 The name Porsche is associated with Super Sports cars in everyone's mind. But can anyone link the super sports concept to an eco-friendly hybrid concept?? Yes, the Porsche showed this concept in 2010 itself with 918 Spyder Hybrid. Later they have started testing this car just to ready it up for Sept 2013 release. This machine will be available as limited edition and only 918 people can own it. The release date is also finalized to be 9/18 i.e. 18th Sept 2013. It is available for booking now also at price tag of US$850,000 (Rs. 4.67 crores). Being said that let's see how many out of 918 units makes it to India.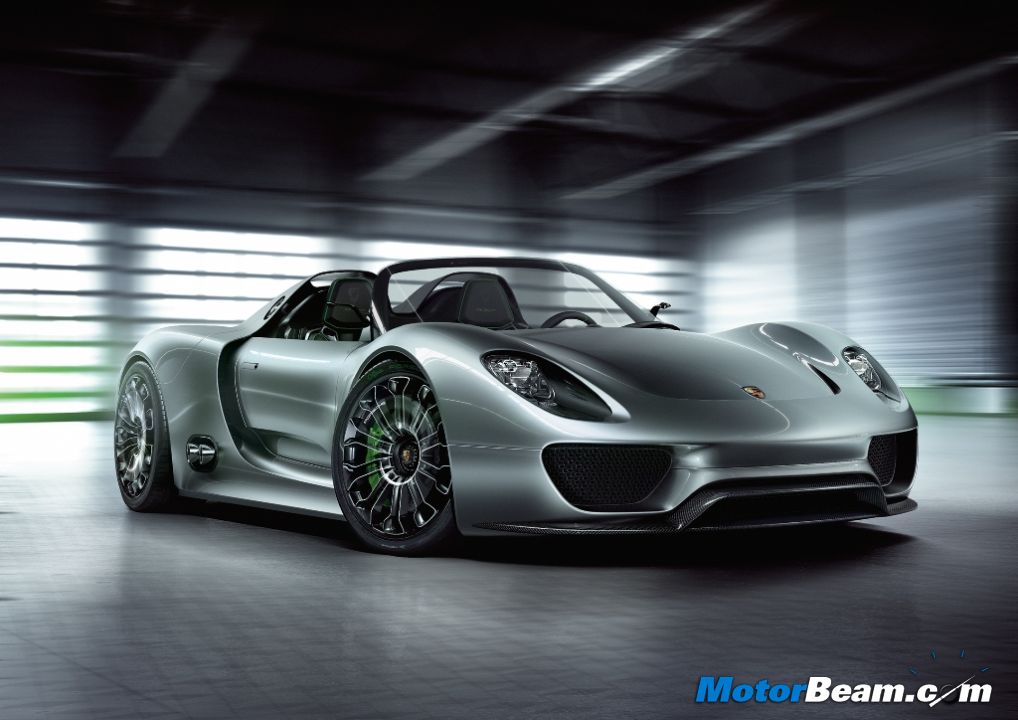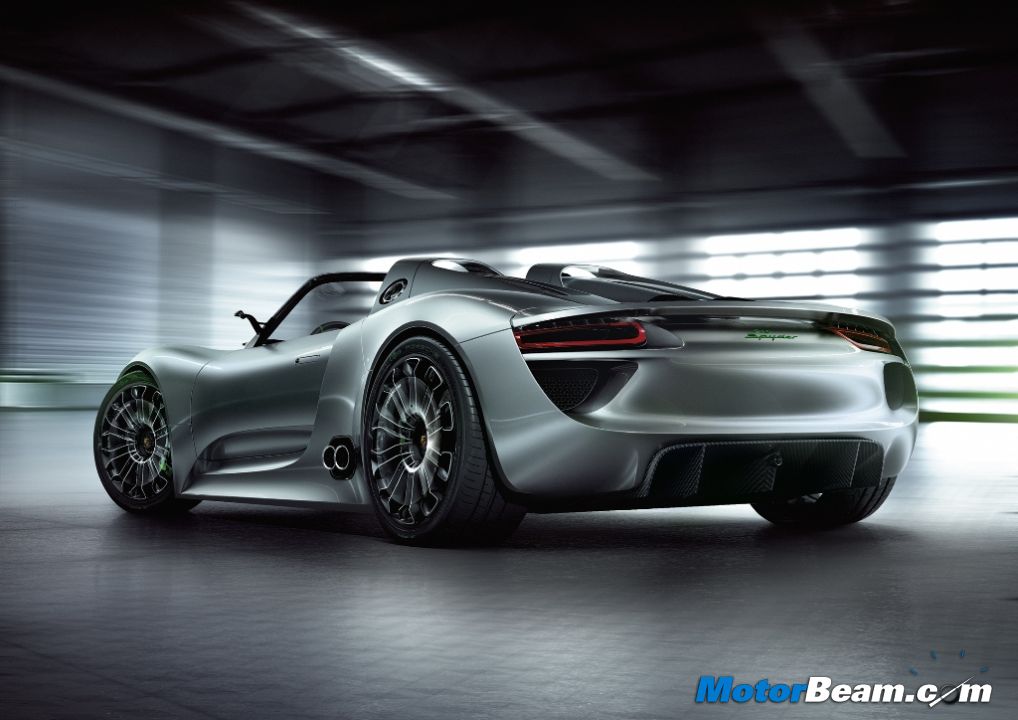 It uses Porsche's legendary engineering with mid-mounted V8 engine having capacity of more than 4.0 liters and producing at least 550 horsepower. Two electric motors placed one on each axle adds power of 218 horses 'on call' i.e. whenever needed. So combined power 770bhps..!! Electrical energy will be stored in a liquid-cooled lithium-ion battery that can be recharged from a standard household outlet. Power will be transferred to the rear wheels via Porsche's compact, seven-speed Porsche-Doppelkupplung (PDK) double-clutch gearbox. With this specifications Porsche's hybrid 918 Spyder can top 320 km/h with acceleration of 0-100 km/h under 3 secs. Under the right conditions, the 918 Spyder will be able to drive on electric power alone at speeds up to 94 mph for limited distances.
The 918 Spyder weighs less than 1,490 kgs with the full carbon fiber reinforced plastic (CFRP) monocoque construction. It helps 918 to emit 70 gm/km of CO2 and have fuel consumption of three liters/100 kilometers.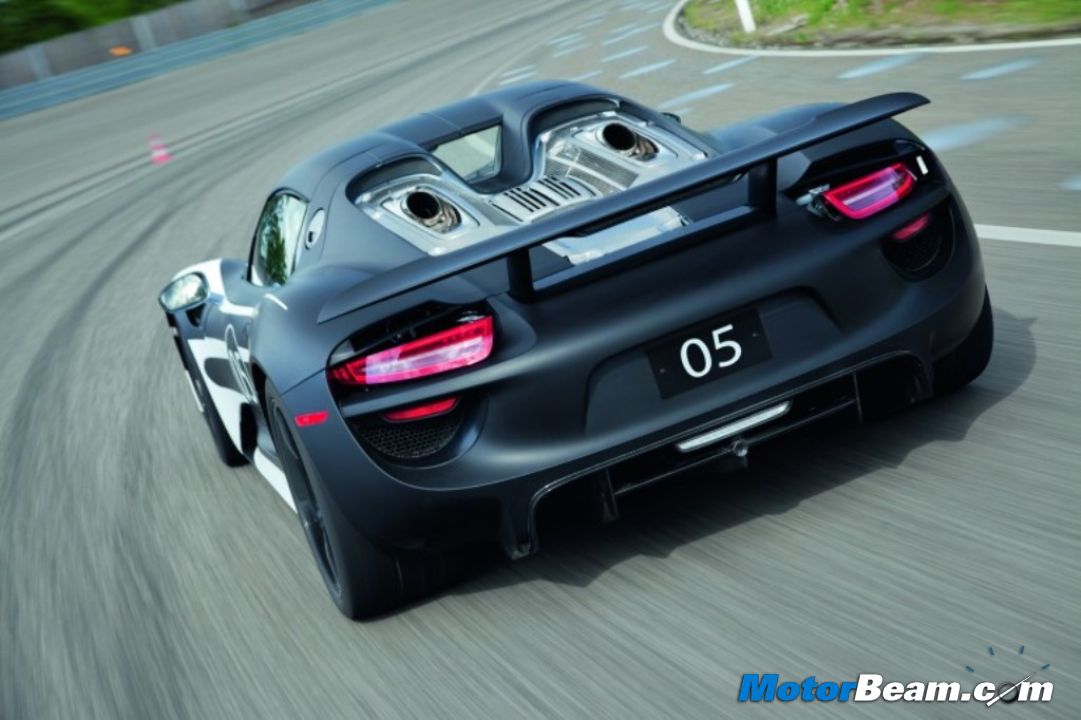 Please note the exhaust pipe's location in above picture.
It makes no sense to make sports car with hybrid engine and 8 minutes range on electric only mode, as one who is buying it won't think of fuel economy and CO2 emissions as well. But this will be finest piece in to have it in collector's gallery as limited pieces are to be produced. It is also good to know that the brands like Porsche are also thinking of going green. So keeping these things away Porsche 918 Spyder is car everyone will dream of.