RE Himalayan Owner Plonks Duke 390 Engine In His Bike
An owner of the Royal Enfield Himalayan has plonked in the KTM Duke 390's engine in his bike for improved performance.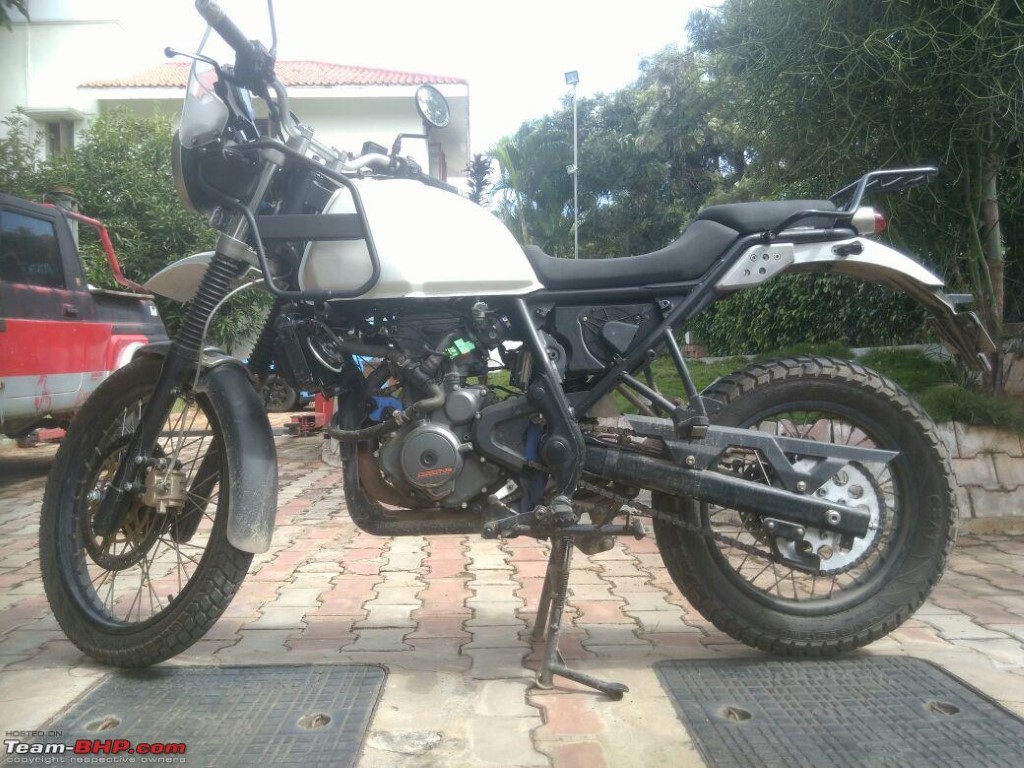 The Royal Enfield Himalayan was launched earlier this year and is without doubt the best bike from the British brand. But expectations fell short and many expected better performance considering the all new motor is still not as punchy as the 500cc mill that does duty on the Classic and Thunderbird. When we tested the bike, we did feel the lack of oomph for highway cruising at triple digit speeds. Looks like an owner of the Himalayan has found a solution.
A Royal Enfield Himalayan owner has plonked a KTM Duke 390's engine into his bike. Out goes the 411cc, air-cooled engine that produces 24.5 HP and 32 Nm in lieu of the 373.2cc liquid-cooled motor that belts out almost 20 more horses at 43.5 HP and 35 Nm. The 5-speed gearbox has naturally been swapped too for the Katoom's 6-speed unit.
Now before you get too excited, remember that the Himalayan's chassis might not be able to put all that power down smoothly. The tyres aren't the best for road riding and the bigger issue are the brakes which lack stopping power. With the Duke 390's stupendous performance, ABS is the need of the hour on this off-road Indian bike with an Austrian heart. The reliability of the Himalayan 390 too can't be ascertained.
Due to the heavy weight of the Himalayan, don't expect power wheelies. There is nothing to tell the swap apart from the engine and the console which has been lifted from the Duke 390 as well. So if you come across a fast Himalayan on the highway, don't assume that you can whizz past at triple digit speeds without much effort, it might be this very bike.
Don't you think the Mahindra Mojo's engine would have done more justice to the Himalayan. Imagine crawling on off-road terrain and the KTM motor shuts down after over-heating? That said, the Himalayan 390 is a terrific idea but only if reliability doesn't bother the owner.
RE Himalayan Owner Plonks Duke 390 Engine In His Bike
– The Himalayan is now fitted with the Duke 390's engine, gearbox and instrument console
– The bike might not be as reliable as a stock bike
– The Himalayan misses out on ABS too
Images Source – Team-BHP.com