Rohit Rides KTM Duke 390 From India To UK
Rohit Upadhyay rode his KTM Duke 390 from India to UK, spending his 10 years' savings.
An Indian rider rides all the way from India to the UK on his KTM Duke 390 and spends his 10 years' of savings to complete the ride. Without further ado let us introduce you to the man who has achieved this feat, ladies and gentleman, say hello to RoRohithith Upadhyay.
Rohit also known as the 'Beruoist' in the biking community, hails from a place called Bhadutola in Madhya Pradesh. A 34 year old unmarried software engineer by profession spent Rs. 8.50 lakhs (his 10 years' savings) for this 90 days journey from India to Isle of Man and accompanying him was his KTM Duke 390.
Rohit had to ship the bike to the Southern Iranian Port of Bandar Abbas to avoid some dangerous locations and from there his journey took wings. He rode to the Turkish border and then to Greece and from there to Albania – Macedonia – Kosovo – Montenegro – Bosnia and Herzegovina – Croatia – Slovenia – Italy – Switzerland – France – Spain – Portugal – Netherland – Belgium – Scotland – Northern Ireland – Republic of Ireland – Isle of Man, England and then back to India.
Covering a total distance of 25,000 kms for the entire trip, Rohit was faced with many challenges in his journey. Initially the Duke 390 had problems with the stator coil. Rohit says it was half burnt and he couldn't find a mechanic to fix it. He had to travel 3 countries by charging the battery manually and finally in Slovenia, Rohit found a KTM guy who replaced the coil for € 300 (300 euros).
Towards the end of the ride the Duke 390 had short circuit problems. The cigarette lighter which Rohit had installed in his Duke was rubbing the wires of the main switch. While on the ride, some wires got exposed and whenever they touched the cigarette lighter, the fuses on the back were blowing up.
Rohit still cherishes this ride and especially riding around the big fjords in Norway.
Currently an owner only to the KTM Duke 390, Rohit says many other people who have done such rides are his inspiration. Riding one's own motorcycle in a distant land is certainly a life enriching experience. Rohit's initial plans were something different. He was wanting to do a 6 months trip to New Zealand and was ready to quit his job too, but his boss had granted him a 3 months leave without pay and hence he charted out this ride instead of the New Zealand trip.
Below is an excerpt from our interaction with Rohit:
Tell us about yourself. Who you are? What you do?
I grew up in interiors of Madhya Pradesh in a village called Badhutola,which is not so far from Kanha National Park. My fate landed me in an IT job and its been more than 10 years I am dragging with this job for earning my bread and butter.
When and how did your love for cars/bikes or both start?
I never had an affection towards cars, but bikes were my favorite. Until school and college my life was limited to bicycle, but in final year of my college, my uncle gave me his scooter (Bajaj Chetak) for commuting but I never had enough money to buy petrol. So, riding used to be a rare affair then.
My addiction to long rides started due to the fun factor involved in riding a motorcycle. I was untouched by the effect for some initial years, but when I bought R15 everything changed for me. 5 days of regular life was no more exciting and the weekends were eagerly awaited to be on the saddle and disappear.
Which car/bike do you currently own?
I own a KTM Duke 390
When did you buy your car/bike?
My first bike was Pulsar 150, which i bought while i got my first job in Pune. I bought it from the very famous 2nd hand two wheeler market of Rastapeth.
What made you buy this particular car/bike?
Well, no specific reason. I had limited amount of money and what it could buy was only a used Pulsar 150.
How many kms have you done? How many do you do everyday?
On my current bike odometer is ticking around 76,000 kms. My daily office commute is just 2 kms per day.
What do you love the most about your car/bike?
KTM 390 is a powerful bike with amazing control. If you keep the common issues aside, there is lot to love and talk about this mean machine. Good Braking, Good Control, Good Acceleration, Affordable parts and comparatively reliable.
What you don't like about your car/bike?
Tank size is too small.
Will you trade your car/bike for any other vehicle? If yes, which one?
There are countless memories attached with the bike. I don't think I will trade it with any bike.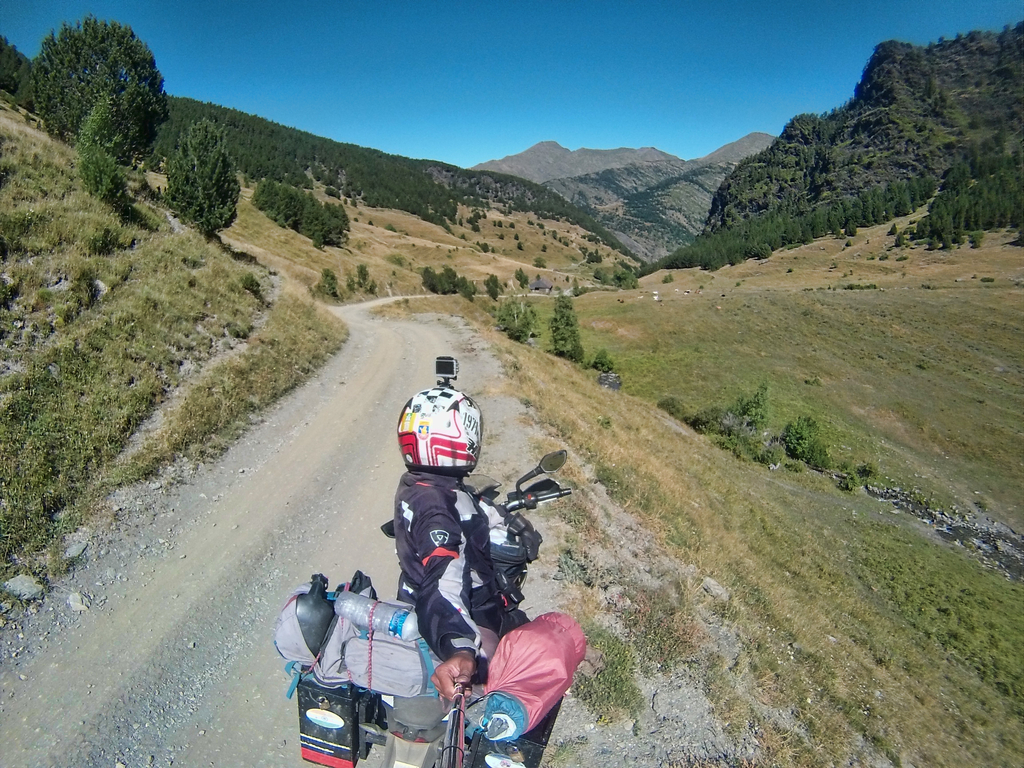 What is the longest you drove/rode your car/bike and where?
It happens to be my India to UK ride for 90 days and 25,000 kms
What is the fastest speed you have achieved on your car/bike?
I am not a fan of high speeds, hence no point in sharing the fastest speed figures.
What mileage does your vehicle give you?
22 km/litre
What is the nastiest thing you have done in your vehicle?
I guess travelling overland solo is the nastiest thing I have ever done :)
What modifications have you done to your vehicle and what do you plan to do in the future?
I am a fan of stock bikes, no modifications except few changes in the tyre choices and of course the Iron Panniers for luggage solution.
Why is your car/bike so special to you?
The moments we have lived on the road, places we have been together, memories we have created by crossing borders – My bike was always there with me to share everything, my pain, my happiness, my joy and my sadness. Everything about it is more than special.
Which is your dream car/bike?
Africa Twin
Which car/bike sold in India is your current favorite?
KTM Duke 390 is my favorite machine
Any advice for MotorBeam readers?
Be safe on the road, always wear safety gear. Do not drink and drive and stay away from drugs.
KTM Duke 390 From India To UK
– Rohit Upadhyay rides his KTM Duke 390 from India to Isle of Man
– Rohit covered a total distance of 25,000 kms and spent Rs. 8.50 lakhs for the ride
– On the journey Rohit faced issues with the Duke 390's stator coil and some short circuit issues