Samsung Galaxy J3 Launched For Bikers, Priced At Rs. 8990/-
Samsung has launched a new Galaxy J3 smartphone with a special 'S Bike' application. The application helps motorcyclists manage calls while riding and thus lowers the chance of an accident.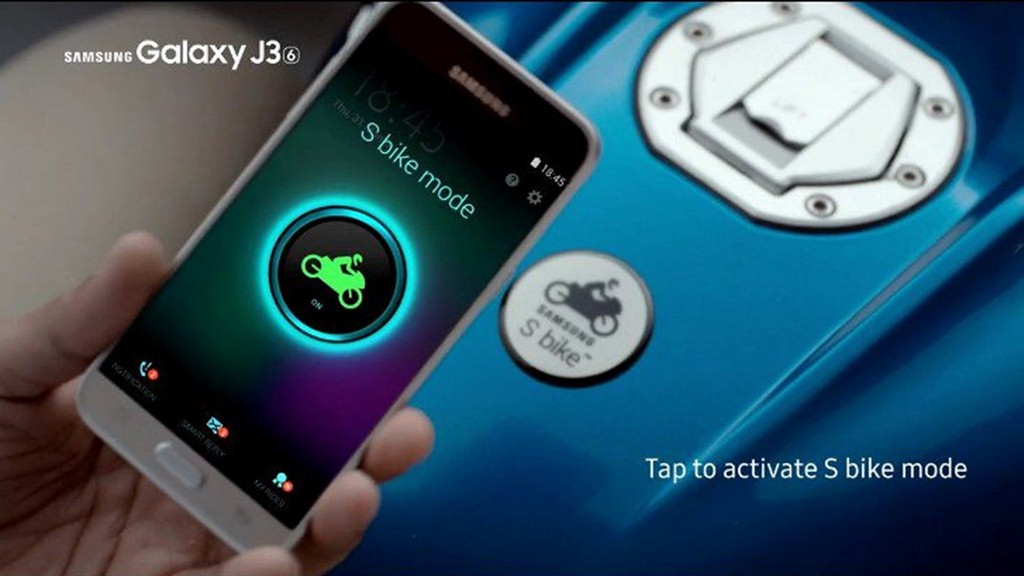 India is infamous for having the largest number of road fatalities in the world with majority of the casualties being pedestrians and two-wheeler users. Given the lax attitude of the authorities and the general disregard of traffic rules related by public for talking on cellphone while riding, the data numbers are set to climb up everyday. Therefore, mobile phone maker Samsung has introduced a new smartphone called Galaxy J3, priced at Rs. 8990/-. It comes with a special application called 'S Bike', which has been designed to handle calls while riding a two-wheeler and thus help maintain the rider's concentration on the road.
The 'S Bike' application uses the Near Field Communication (NFC) technology, present in the phone, to mute incoming calls and notifies the caller with an automated message that the user is riding a two-wheeler and cannot take calls at the moment. If however, the caller wants to convey an urgent message, he/she has the option of redirecting the call by pressing 1 from the dialer, upon which the smartphone will notify the rider by playing a special ring tone. But the real smartness of this smartphone is that the feature will not let the rider attend the call until he halts the two-wheeler, thereby reducing the chance of a mishap considerably.
This noble technological feature is currently available in the Samsung Galaxy J3 smartphone only, but is soon expected to make its way in all the mainstream Samsung mobile phones. What's also a positive fact is that Samsung decided to introduce this feature in a low-budget mobile phone with high chance of adoption instead of its expensive flagship, thereby taking the application to the maximum number of people. Samsung also states that the app was made by its design team in India.
India witnesses around 2 to 3 lakh road fatalities every year. The gruesome statistic is the result of poor road conditions and low respect for traffic rules. Motorcyclists talking on mobiles using hands-free, lane-splitting in high speed traffic with no knowledge of their surroundings is a common sight in our metros. The welcome feature by the industry leader Samsung is sure to send ripples in the market, inspiring other manufacturers to come up with similar ideas for road safety.
Samsung Galaxy J3
– The 'S Bike' application uses NFC sensor to mute incoming calls
– It notifies the caller that the user is riding a two-wheeler
– In case of an urgency, the caller can press 1 from the dialer, after which the smartphone will ring a special tone
– The rider can then take the call but only when the phone detects that the vehicle is stationary