Top 25 Selling Cars In September 2019; S-Presso Makes A Surprise Entry
The Maruti Dzire retains the top position for the 2nd consecutive month.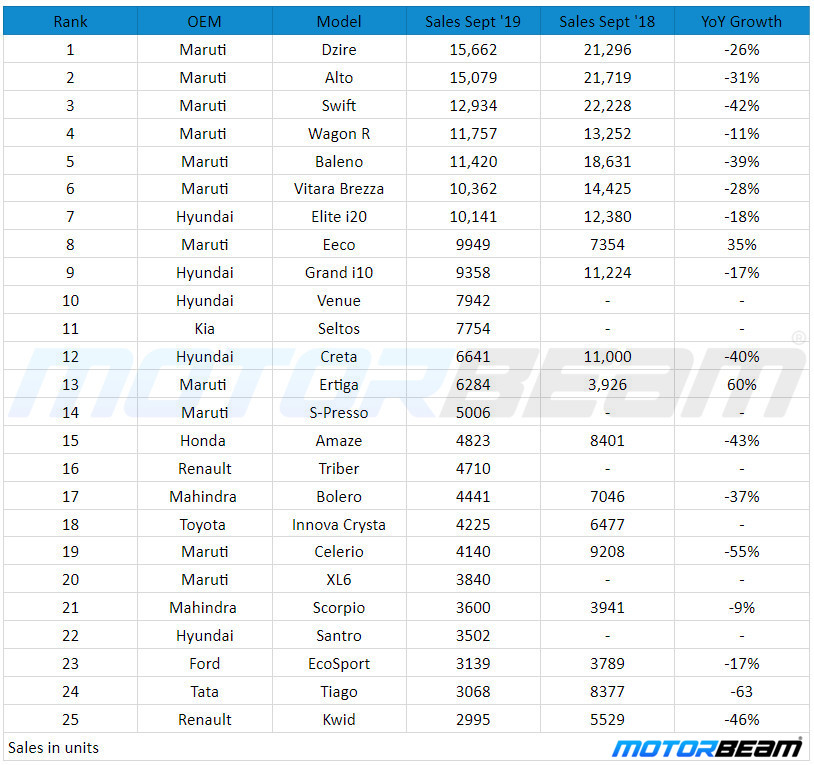 September projects that the year is coming to an end, sadly, the economic slowdown isn't. The constant decline of automobile sales reaches a new low every month. For this month, there are only 2 out of 25 products with a positive YoY (Year on Year) growth. New products have entered the mix, and brands have shuffled up in positions. What still doesn't change, is Maruti Suzuki taking the top 5 positions.
The 1st position is retained by the Maruti Dzire for the second consecutive month. Though the YoY is still negative, it has come down from -40% last month to -26% in September 2019. The Maruti Alto has jumped to the 2nd position from the 5th last month after selling 15,079 units in September 2019. The brand also has the only 2 products with a positive YoY growth; the Eeco at 35% and the Ertiga at 60% at 13th position on the list. On top of that, the brand goes a step ahead and bags the top 6 positions instead of the customary 5.
The second company on the list is Hyundai with the Elite i20, up from the 11th position and replacing the Venue. The compact sedan is also dethroned by the Vitara Brezza by quite a margin as it emerges as the best selling compact SUV for September 2019. It seems like the Eeco is one such vehicle sitting comfortably in the 8th position (just like last month) unperturbed by what is happening in the industry. It marks the 1st positive YoY growth of the month (just like last month!) at 35% followed by the Ertiga at the highest 60% in the 13th position.
New Korean brand Kia, with its 1st product in India, the Seltos is the 3rd brand on the list, brazing past industry veterans like Honda, Mahindra and Ford. Another surprise addition on the list is Maruti's recently launched S-Presso at the 14th position. While a lot has been said for the way it looks, the numbers seem to tell that the small car has taken a liking among buyers.
Renault's Triber is up from the 3rd last position, to the 16th position on the list. The Bolero and the EcoSport continue to be the money makers for their respective brands. Sadly, homegrown automaker Tata is down at the 24th position with the Tiago while the Kwid re-enters the list at the 25th position.
September 2019 Car Sales
– First 6 positions bagged by Maruti models
– Maruti Ertiga has recorded the highest growth at 60%
– Kia climbs up one position while Tata falls down 5 places