Tata Safari 6×6: Toughening Up Tough SUV
Tata Safari 6x6 was not created to enhance the SUVs off-road capabilities.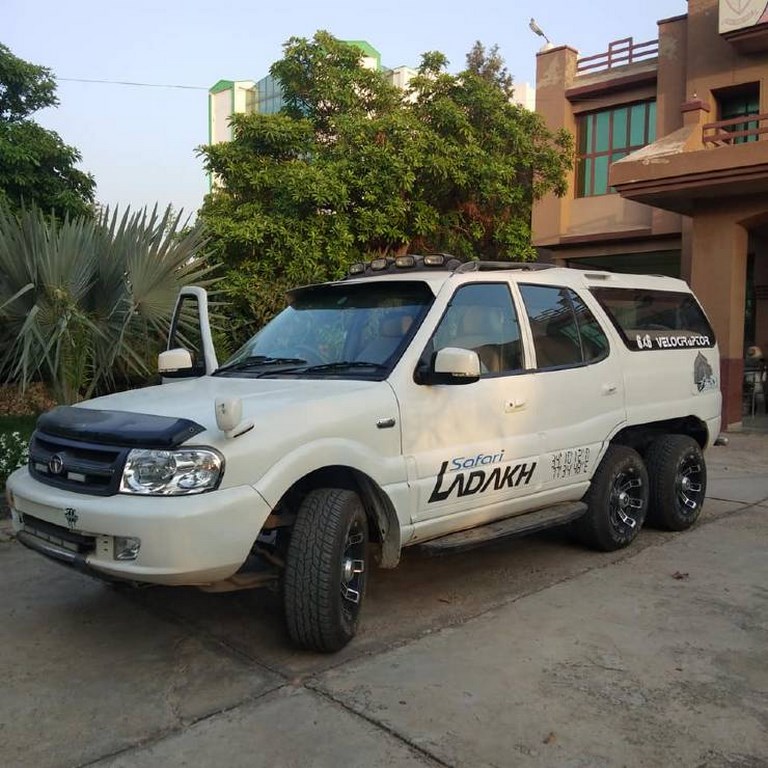 Some would say the Tata Safari was the last true SUV to be sold in India. It impressed many with just its character and tough build quality. But one owner from Haryana has toughened it up more to create the Tata Safari 6×6.
The entire cost of the modification is around Rs. 8 lakhs and was done to a Safari Dicor 4×4. Mind you, it also comes with a lot of stickers.
For example, the Velociraptor 6×6 stickers on the side pay homage to the Velociraptor 6X6 from USA-based Hennessey Performance.
The Ladakh sticker is to remind one of the Ladakh Expedition concept of the Safari that Tata showcased at the 2014 Auto Expo.
Let us look at what has changed on the modified Tata Safari 6×6. At the front, the grille is blacked out, a stone deflector has been added and LED auxiliary lamps have been mounted on the roof.
Look at it from the sides and one can see how stretched the SUV is. The rear window pane is much bigger and below it is the additional axle to make it a 6×6.
The changes have been made from the rear wheels and this is where the additional room has been created. This would mean no additional legroom for the passengers, but the boot is cavernous.
The rearmost axle however is not live, meaning no power is sent to the two extra wheels, which is a shame, for its capabilities could have been enhanced had power been sent to the last axle.
Increasing the off-roading capabilities of the car was not the owner's priority who calls it the 6×4. Admittedly, the conversion was made for extra space only.
Since a lot of structural changes are involved, any such modifications should get approved by the RTO or else, authorities have powers to take it away.
Tata Safari 6×6
Tata Safari given extra set of wheels by Haryana-based owner
Third axle of the Tata Safari 6×6 is not live
Conversion not to enhance the SUVs off-road capabilities