Drooling Over 'Concept' Showstoppers
Concept cars are engineer's flight of fancy – a time when he lets loose himself and visualizes the impossible to create a masterpiece. The concept cars are designed to showcase an innovative concept, technology or design – a company displays it to prove its prowess in the automobile industry. Only few concept cars gets into to actual production but when they do arrive on the scene, elements are sure to be changed accordingly. Car manufacturers like Chevrolet, Jaguar, Maruti and even Tata used the Auto Expo 2012 ground to showcase what they have in them. Let's see at some of the concept cars that caught the visitors fancy.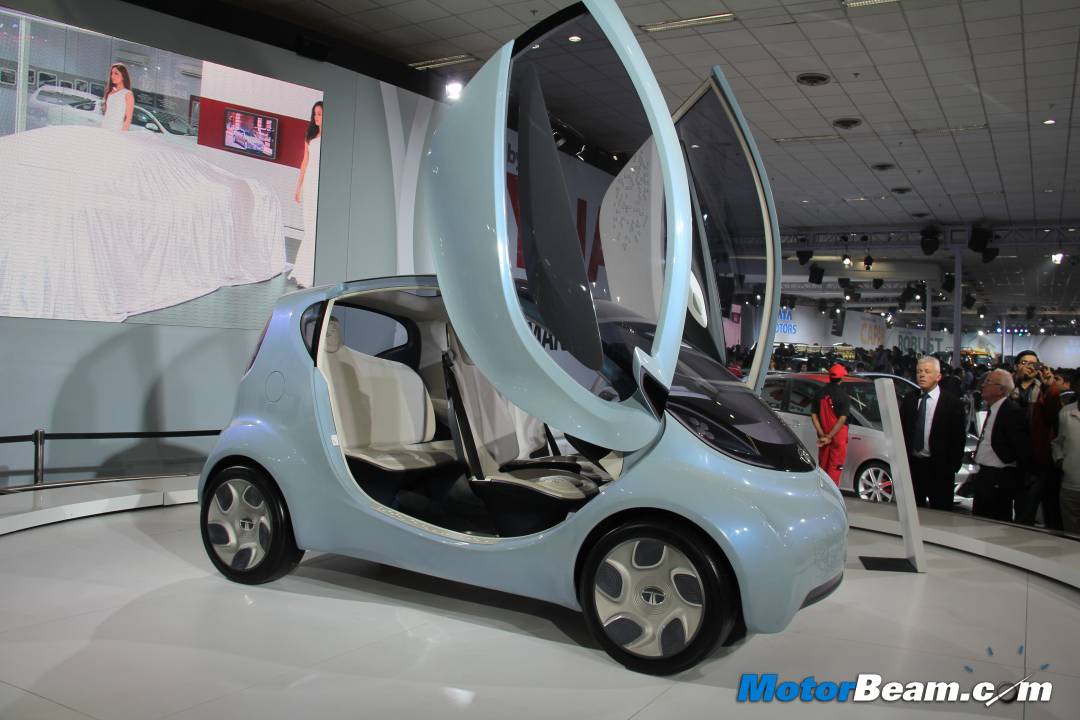 Tata Pixel: Tata Motors unveiled the Pixel earlier this year at the Geneva Motor Show and now Tata has showcased the same to Indian consumers. This ultra small car with a scissor door that open upwards has surely caught the attention of car enthusiasts (ditto when Nano arrived). This small car – just over three meters in length – is the most package efficient four-seater in the world, comfortably accommodating four adults. The major attraction about this car is Zero Turn ability which renders an exceptionally small turning circle radius of 2.6 meters. Loaded with a 1.2 litre three-cylinder turbocharged diesel engine, Pixel is currently targeted at European markets but an Indian debut cannot be ruled out in the future.
[singlepic id= 9928 w=540 h=375 float=center]
Mercedes A-Class: Mercedes this time around had one of the largest stalls at Auto Expo showcasing chic designs. The company also used the space to showcase their small car concept A-Class (unlikely to go into production) at the hands of the Don2 director Farhan Akhtar. The A-Class has a low silhouette body design with a low slung front; a new our-cylinder turbo engine, with a twin-clutch autobox puffs out 210bhp. The five-door Mercedes if goes into production will be a competitor to Mini and the likes.
[singlepic id=9143 w=540 h=375 float=center]
Maruti Suzuki XA Alpha: Maruti Suzuki has the most number of footfalls at every expo considering it's got the largest Indian market share. Maruti this time used the opportunity to showcase its dream splash it wants to make in the SUV segment with the XA Alpha concept SUV. Of all the concept cars on display, this one looks the most promising to go in the production line. The XA Alpha has a European touch to it and with the flared wheel arches and large wheels, it looks huge and manly. Under the hood, XA Alpha will have a 1.3-liter Multijet DDiS diesel and will be positioned under the sub-4 metre category.
[singlepic id=9234 w=540 h=375 float=center]
Renault's DeZir: Renault no stone unturned at the current Auto Expo. While other Renault cars did receive attention, it was the concept car DeZir that was a crowd puller. A bright red car with sensous lines along the shoulder, the car gives a glimpse of what Renault engineers will produce in the future. The car engine which has a maximum power of 150hp is indeed lightning fast and achieves a 100kmph with five seconds from start position. Renault doesn't have any plans to get the DeZir into the production line, but it's certainly a vehicle auto enthusiasts will want on road.
[singlepic id=9333 w=540 h=375 float=center]
Hyundai Hexa Space: Hyundai does seem to be serious in making a splash in the big-car category in India. It has dominated the space in the small car segment but only recently found success with the Verna. What's unique about the Hexa Space concept is that it has eight hexagonally shaped seats which configure in multiple ways to maximize utility and space is known as an optimum shape for space efficiency. The new Hexa Space is based on the company's compact ix20 and is powered by a Kappa 1.2-liter turbo GDI engine, which is mated to a six-speed automatic transmission.
[singlepic id= 9375 w=540 h=375 float=center]
Volkswagen XL1: The XL1 will get into to production as it looks like but we hope at least the technology. Company claims that XL1 is the most fuel efficient concept car in the world – 111 km to a litre. The concept car is powered by a 0.8-litre plug in hybrid diesel engine generating a maximum power of 48PS.
Chevrolet Corvette Stingray: One glance at this concept car from Chevrolet and you know it's a masterpiece. The muscle car has been one of the major attractions at the Auto Expo 2012. The menacing looks coupled with scissor style doors give it the zing what Chevy cars have been known for. The Corvette Stingray Concept represents both the iconic legacy and an exciting future for Corvette.
[singlepic id= 9496 w=540 h=375 float=center]
DC Avanti Supercar: Dilip Chabbria has been known in the automobile circuit for long for his designs. This time around DC showcased his first supercar Avanti concept – likely to go into production by early 2013. DC Avanti is expected to be equipped with a Ford EcoBoost 2.0-litre, four cylinder, DOHC, 16 valve engine. The engine unit has prominent features like turbocharging with direct injection and VVT (Variable Valve Timing). With these features, the engine will be capable of producing power and torque comparable to that of the bigger 3.0-litre engine. Only a limited number of cars will be produced.
[singlepic id= 9954 w=540 h=375 float=center]
Audi A3 E-Tron: Audi seems to be enjoying its ride in India. With an increasing market share in the luxury segment, Audi upped its ante by showcasing the E-Tron – based on A3 platform. The E-tron is a hybrid variant of the A3 sedan. The Audi A3 E-tron comes with a 211hp, 1.4 TFSI four-cylinder engine and an electric motor. The electric car is powered by a set of lithium ion batteries which have charge capacity of 12kWh.
[singlepic id= 9989 w=540 h=375 float=center]
Jaguar CX-75 and CX-16: Wherever it goes, Jaguar does turn heads. And it very well at the Auto Expo held at Pragati Maidan. The X range of machines are the answer to their future and shows the dedication towards technological advancement Jaguar is known for. The CX-75 claims to do a sprint of 0-100kmph in 3 seconds with a top speed of 320kph. The car's design is a plug-in hybrid, which produces 778 horsepower through four electric motors, each of which drives one of the four wheels. Powering the CX-16 is a prototype supercharged all-alloy V6 engine which produces 380PS (280kW) and 332lb ft (450Nm) of torque from 3.0-litres. CX-16 covers the 0-100kmph in under 4.4 seconds, according to company officials.
[singlepic id= 9719 w=540 h=375 float=center]
Land Rover Defender concept 100 and Defender concept 100 Sports: Both made their Indian debut at the Auto Expo 2012 in India and define the potential way ahead design for the Defender brand. Both the vehicles capture the rugged design of the iconic brand. The concept vehicles extend the commitment to being environment friendly and comes with an intelligent Twin-Solenoid Stop/Start system mated to the latest eight-speed automatic gearbox. The next feature is the unique Driveline Disconnect system, which sends power to the front-axle only unless conditions demand all-wheel drive.