Top 10 Selling Cars In India In FY2015-16, Maruti Rules
Maruti is as usual the king of the mountain with five of its cars in the top ten largest selling vehicles list. Hyundai goes from strength to strength with its mainstay cars such as the Grand i10 and Elite i20 showing growth in numbers.
FY2015-2016 was an exciting period for the Indian automotive industry with almost all the automakers showing encouraging growth in their sales numbers. FY2016 was the time which witnessed deeper penetration of automatics and adoption of higher safety standards by automakers, which in turn helped fuel the positive growth of the industry. Here are the top 10 best selling cars for the 2015-16 financial year.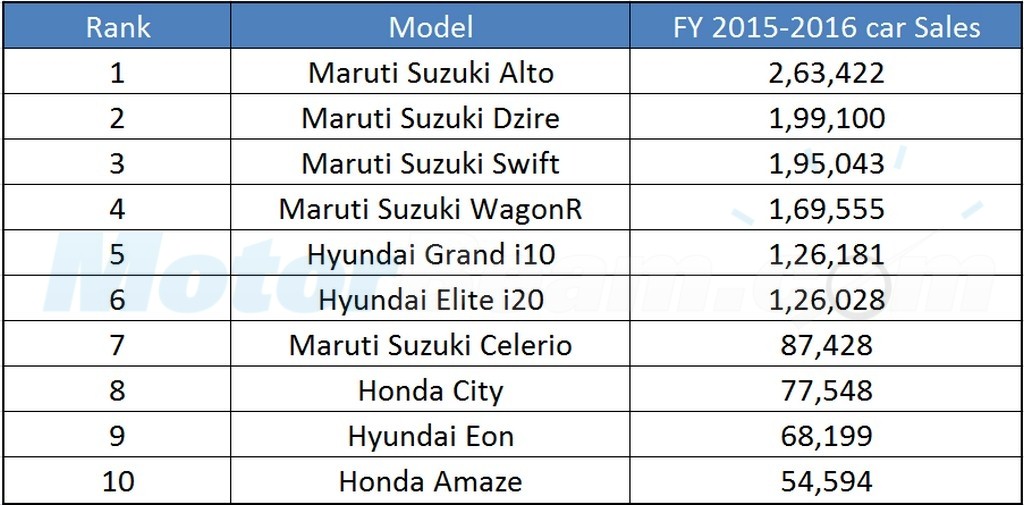 Observations –
1) Maruti Suzuki – The industry leader continued its unchallenged hold on the top position of the Indian car market. The top selling car in the country in FY2016 was the Maruti Suzuki Alto with 2,63,422 units sold, a decline of 0.4 percent compared to the previous fiscal year. The Alto is followed by the DZire which sold 1,99,100 units with a growth of 4 percent since last year and its hatchback avatar the Swift which saw a decline of 3 percent from 2015 and sold 1,95,043 units.
2) The other Maruti Suzuki vehicles which kept the cash registers ringing were the Wagon R with sales of 1,69,555 units in FY16 with a growth of 5 percent while maintaining its fourth spot from last year and the Celerio, which is at the seventh slot and grew 28 percent with 87,428 units sold in FY2016. This clearly shows how the Baleno and Vitara Brezza are cannibalising the sales of other Maruti products.
3) Hyundai – The Korean company carried on playing second fiddle to Maruti Suzuki but showed hefty growth in its sales numbers since last year, with a total of 4,84,324 units sold, a 15.1 percent yearly growth and with its highest-ever market share of 17 percent. The popular hatchback Grand i10 garnered 1,26,181 customers and showed a 27 percent growth. The real star of the show was the sleek looking Elite i20, which grew almost 62 percent and sold 1,26,028 units last fiscal. The other Hyundai which featured in the top 10 is the entry-level Eon which sold 68,199 units and recorded a de-growth of 13 percent.
4) Honda – The remaining two spots in the list is acquired by Honda with its venerable City and Amaze sedans. The Honda City sold 77,548 units last fiscal, with 0.2 percent growth in sales. The Amaze on the other hand displayed negative growth of 18 percent with 54,594 cars sold.
Top 10 Selling Cars In FY2016
– Maruti Suzuki was again the largest carmaker with five out of ten top selling cars
– Hyundai showed strong growth numbers with the Elite i20 growing as much as 62 percent
– Honda retained its third spot with its Amaze and City sedans appearing in the list too