Top 10 Selling Cars In India In January 2015
The sales chart was dominated by Maruti Suzuki with five models on offer and even saw the new Ciaz sedan make a comeback at the 10th position.
The Indian auto market has rolled off to a good start in 2015 with the overall sentiment positive as ever. This despite the fact that the excise duty concession was revoked for the year, has done little to affect sales and the long-term growth prospects for most manufacturers. With January sales going north for most automakers, here are the top ten selling vehicles for the month that managed to retain their position while sales saw a significant hike compared to December 2014.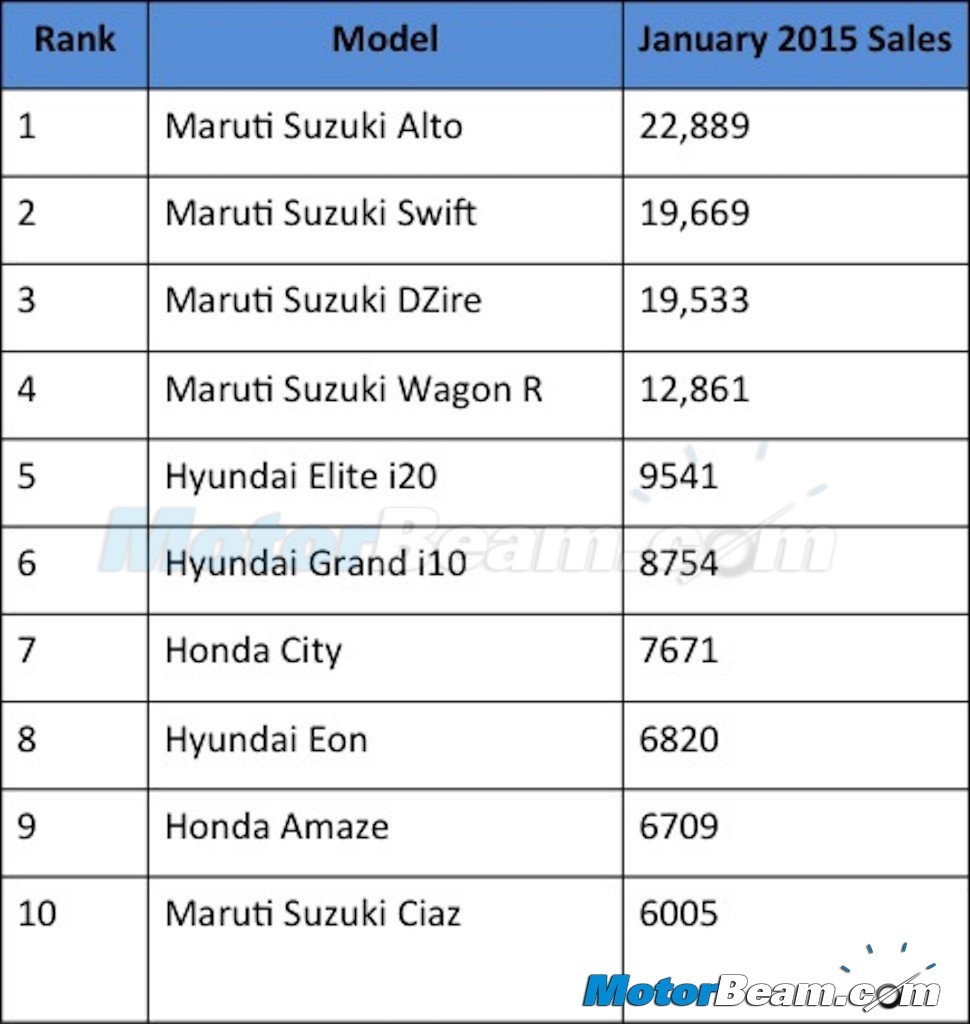 Observations –
1) The Ciaz made it back to the top 10 list clocking in 6005 units in January 2015 after selling 3731 units in December 2014. The jump was quite a huge one and the mid-size sedan is expected to maintain the momentum in the following months as well, even though the Honda City leads the segment.
2) Maruti Suzuki clearly is the leader across the chart with as many as five models being top sellers in the country. The best selling Alto continues to dominate the sales chart with 22,889 units sold in the previous month and was followed by the Swift with 19,669 units sold. The DZire sold 19533 units during the same period and the Wagon R was fourth with 12,861 units sold in January. Interestingly, the Swift and DZire did exceedingly better than its sales in December marking a substantial difference.
3) Hyundai was the second best seller on the list and had three products on offer. The Elite i20 is the South Korean automaker's best-selling product for months now and sold 9541 units in January 2015 taking the fifth position. The Grand i10 followed immediately at the sixth place with 8754 units sold in the previous month; while the Alto competing Eon clocked 6709 units during January sales.
4) Honda is still riding high with the City and Amaze that refuse to buoy down in terms of sales. The segment leader City retained its seventh position with 7671 units sold; whereas the Amaze compact sedan stood at the ninth position recording 6709 units in January this year. Both the models have been doing consistently well with little effect coming from the competition allowing Honda to gain 17 percent in domestic sales. It will be interesting to see though how sales of the new Verna 4S fair against the City sedan.