Yamaha Ray Bookings Open Now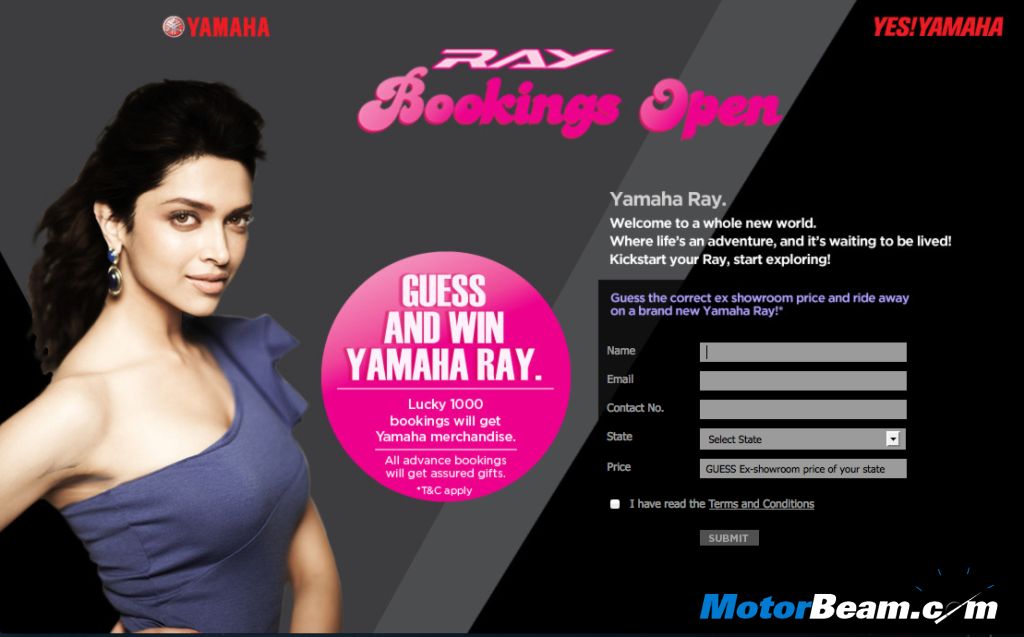 Yamaha India has opened bookings of the Ray scooter in India. The company recently appointed Deepika Padukone as the brand ambassador. The launch of the scooter seems to be around the corner. Taking bookings before launch is Yamaha's way of analyzing the demand for their scooter. Yamaha is also running a contest, wherein people can guess the price and get a chance to win the Ray scooter. People who enter the contest also get 10% discount coupon on Yamaha accessories. Lucky 1000 will also get Yamaha merchandise along with gifts. This is Yamaha's way to push people to book the scooter even before it is launched.
The Yamaha Ray scooter is the Japanese automaker's first scooter for the Indian market. This launch is very important for Yamaha as it will be rivaling with arch rival Honda, who has the Activa, Dio and Aviator scooters in the Indian market. The Honda scooters account for a major chunk of sales for the brand, helping it achieve 44% market share in the scooter market. Yamaha knows how important the Ray scooter if for volumes and will go all out on its promotion. Expect Yamaha to offer an array of colours across two variants of the scooter.
Yamaha has not disclosed anything about the engine of the Ray scooter but we can expect the company to plonk in a 113cc engine in the bike. This scooter is expected to be priced around Rs. 50,000/- and will boast of a mileage of around 50 km/l. This along with Yamaha's known quality and reliability will help the company make a mark in the scooter segment in India. Currently the scooter market is growing at a rate of 20% every year.
Thanks Jobu George for the tip.