Yamaha YZF R15 V2 – 5000 kms Ownership Review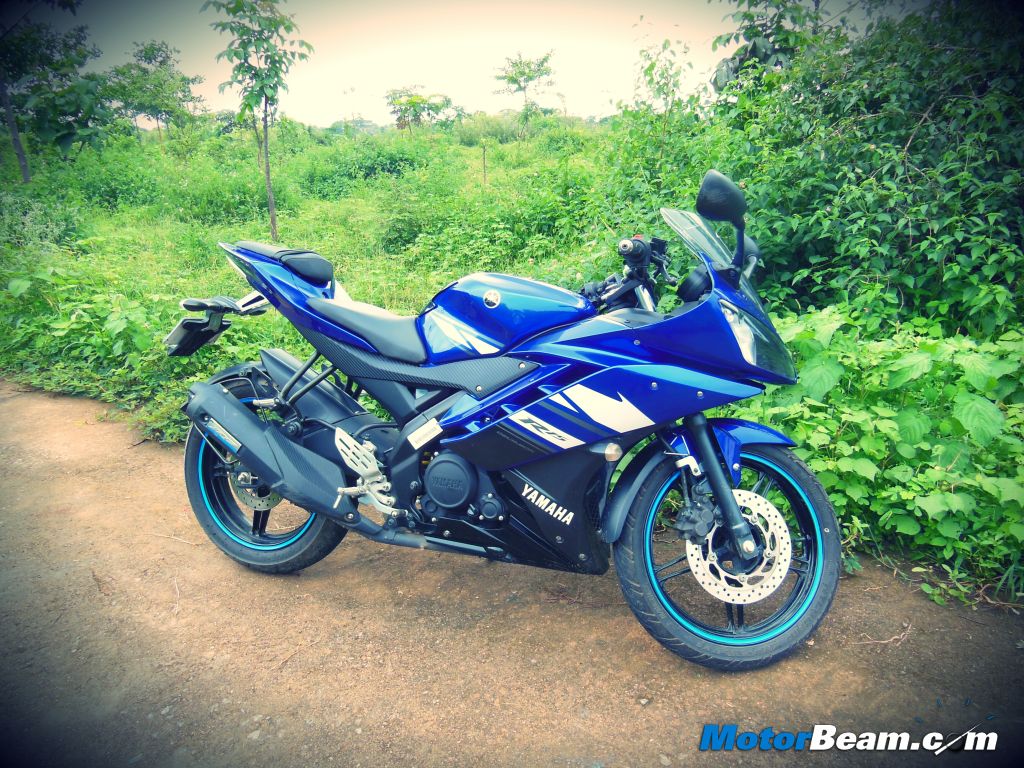 Hello Bikers and fellow readers. I am Dewashish Robinson and I am currently pursuing MBBS from RIMS, Ranchi. This is the story of my Racing Blue Yamaha YZF R15 V2.0, which I fondly refer to as the 'Blue Beast'.
A brief backdrop
The automobile bug had stung me way back in my sixth standard, when I aspired to become an automobile designer. I used to sketch cars and bikes and read a lot of auto magazines. Not boasting, I knew about BHPs, torque and pistons way before my classmates learned how to draw Math Graphs. I had a strong fondness for super-cars and super-bikes and spent my free time sketching them. But then with time my fondness for Maths deteriorated and I became more attracted to my parents' profession and took up medical. But my love for anything on wheels only seemed to get better.
I spent almost the whole of my school life in a boarding school and due to this reason I never quite felt the need to have a bike of my own that time. Whenever I came home on vacations, I always got to lay my hands on my dad's two decade old Bajaj Chetak 12V Electronic and my cousins' and friend's bikes, namely Honda Shine, Bajaj Discover , Pulsar 180 and Karizma R. I used to go along with them on long and short trips and always enjoyed the rides, with the cool air blowing through my hair and straight empty roads waiting for me to tear through them. I always wanted to buy a good performance bike when I grew up and had my eyes set on the P220. Hyosung Comet too used to be a dream bike for me, but sadly it was available for a limited time. Back in those days, the options for the average Indian Biker were limited and to be frank it was a monopoly of Bajaj when it came to what some may call Performance Biking. But things changed some years later when Yamaha and Honda came with a bang!! Boy, now I had options!!
Choosing the right bike – After I entered medical school last year, I started to feel the need to own a bike. I had to go out along with my friends often for trips and I longed to have a bike of my own. At times I had to borrow my friends' bikes for small reasons which I personally disliked. And yes, I would not deny, having a bike does increase your female fan following too. But it was more out of a passion for biking that I asked my parents to get me a bike, to which they readily agreed. Price and mileage were not much of a concern as they were willing to shell out any amount as long as it fell within the price bracket of Rs. 1.5 lakhs. My dad, being an automobile enthusiast himself, turned out to be easy to convince.
I began looking up reviews and videos on the internet and started taking test rides. Here I would like to thank the MotorBeam team who played a vital role in helping me decide my bike. After putting in much thought, I had three options left with me –
1) Honda CBR 250R Non-ABS.
2) KTM Duke 200.
3) Yamaha R15 v2.0
Now began the toughest task- To choose among the three.
The Honda CBR250R was very appealing to me because of the raw power and the muscular look but had to be struck off from the list first because of some very obvious reasons. It was a bit on the pricier side and I did not feel it had those eye-catching looks. The KTM Duke 200 proved to be a vicious contender though, and at a price slightly above the Yamaha, definitely seemed to me the perfect choice but again there were a few reasons due to which I had to strike it off the list too- lack of a pro-biking showroom in the city, instrument cluster of the bike not being something of an eye candy and the front of the bike not doing justice to the overall styling.
Yamaha, though, was something I had drooled over for over a year. I had always been a fan of the older version, and with its incarnation as an all new avatar, Yamaha had once again proved it was second to none. I was quite impressed with the goodies offered in the package and the facelift was a much needed welcome.
Two of my seniors owned both the previous version and the newer one and I asked them to let me take test runs. I took them out for a couple of kilometres and after the awesome experience, said to myself, "This IS the bike for me!"
After consulting my parents, I finally decided to go for it. My mom checked out the pictures of the bike on the internet and called me up one day. She asked me to look at other options in the same price range because she was skeptical about the rear seat being too high. But I managed to convince her and told her that since my girlfriend was not in the same college, I would not be having any females sitting behind me.
The Booking and Waiting Period – I went and booked my beast on the 31st of March, 2012. The showroom people said it would be delivered to me in a week's time as Racing Blue wasn't available with them (Personally, I feel blue is the perfect color for any Yamaha Sports Bike). I asked them to get it delivered to me on the 6th of April, because it happened to be Good Friday. They agreed and I went home happily. I would admit here that never before had I been so impatient about anything in life. Each moment seemed like a very long time. I called up the showroom after a week on the 6th, but unfortunately it hadn't arrived. The explanation I got from them was that the company never sent the colors according to the bookings but did as they pleased, without disclosing what colors they were sending. Now this was something I did not quite buy into.
I was disheartened as my plan to get the bike on an auspicious day turned to dust. I had no choice though, than to wait for one more week. After the second week, they told me it would take another week's time as the company wanted to clear the limited edition colors first, namely "Fiery Red" and the "50th Anniversary". Damn!! I cursed my luck and waited. One fine morning on the 17th of April, I got a call from the showroom asking me to come and ride home my bike. As soon as I heard this, my joy knew no bounds!! At last my mean machine was here!
My dad had transferred the entire amount already to my account but unfortunately since the daily transaction limit from ATMs is only Rs. 40,000/-, I had to wait for three days. Finally on the 20th of April, I went to the showroom along with my friend Ankit. While I waited at the reception, the showroom staff brought out my bike from the storehouse. For a moment I was completely lost looking at this blue beauty standing there. The beautiful receptionist had to poke me in order to get my attention back to the paperwork!! I lost no time thereon and finished off with the formalities as soon as I could. After paying the amount of approx. Rs. 1.2 lakhs, I was handed over the keys; photographs were clicked, smiles exchanged and I was ready to set off.
I quickly shod the first gear in place and Ankit and I were off to what I would call my Dream Run. On the first day we traveled about 35 Kms. Everywhere I went people stared in awe at the bike. At the petrol station, people started asking me about the bike, and that's where I faced the inevitable question for the first time, "Kitna deti hai? and the funniest one, "You could have got a Nano instead!". "Morons!" I thought, and I knew well I would have to face these questions my entire life from then on.
The first ride – I absolutely have no words to describe the feel of the first ride. At first I was having a hard time shifting through the gears in traffic trying to get a feel of the bike. After some time I got a little familiar with the gearbox and I was zooming through, my face gleaming with pride. Everyone turned their heads towards my bike whenever I stopped at the traffic lights. To them, it seemed something from the outer world. The engine felt butter smooth and the sound of the engine was music to the ears, like the strumming of a violin. When I took the bike to the college, everyone got around and congratulated me. I really felt special. From then on, I took my boy to the class everyday and soon it became the talk of the town, esp. girls.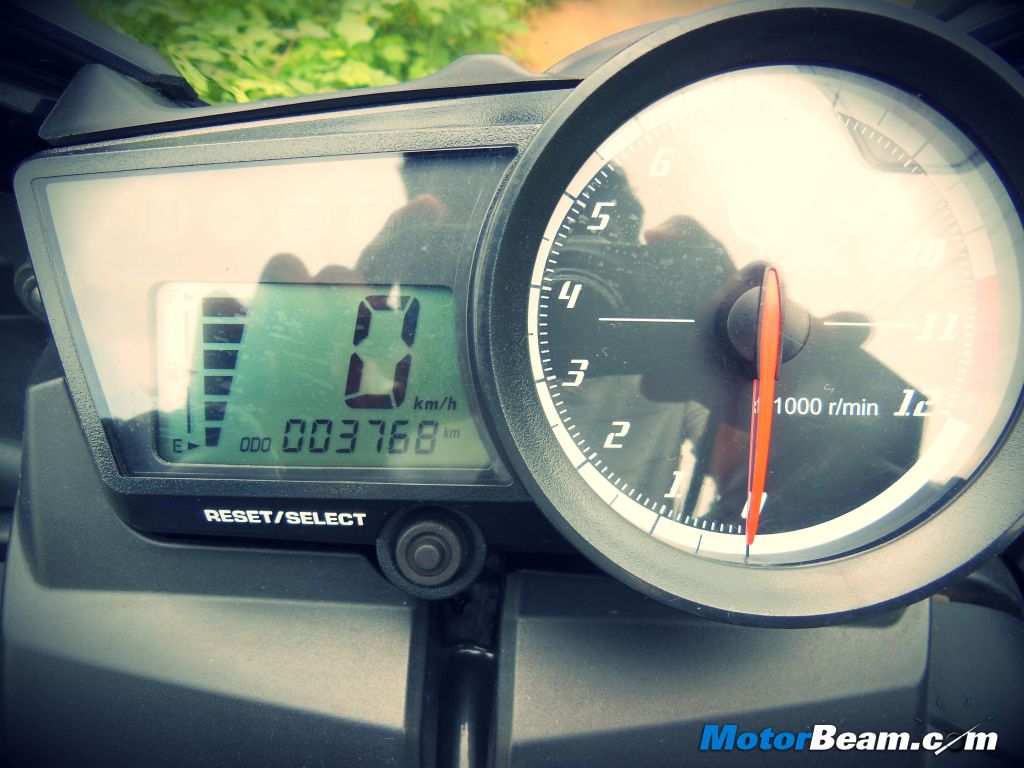 The Engine Break-in Period – The first 1000 kilometres is something that should be called the toughest phase for a biker. You know you want to do things to your machine but your vehicle's instruction manual says something else. My bike wanted to be ripped hard and I had to keep my cool despite seeing commuter bikes overtaking me. I was like, "Just wait until I complete my run-in!!" During this time, I followed all the instructions given in the manual. I hardly crossed the 5000 RPM limit all this while, kept varying the speeds and avoided sudden braking as much as I could. I knew well that if I did not adhere to these instructions, I would not be able to extract as much as I wanted to from the bike in the long run. In the end, as a result, it paid off. I was able to get a near perfect balance of the performance and the mileage.
The first and second (not-so) free services – After the said 1000 Kms, I went in for my first service. I was charged Rs. 650. They changed the engine oil and the oil filter and some other minor touches here and there. After the first service was done, I turned on the engine and the engine was more willing to rip open. After completing 3000 Kms, I took my bike for its second free service and after this was done my bike was ready to gallop like a horse.
Road presence – Just wear some riding gear, like a good helmet and riding gloves and shoes, and you are bound to look like a pro at Moto GP. The bike has a mighty road presence. You will feel like the king of the road looking at his subjects who in turn would be gazing at you.
Riding comfort in traffic – For the first few kilometres, I had frequent pain in my palms after riding in stop and go traffic for long, thanks to the forward oriented and sporty seating position. It was then that I consulted the internet to find out ways and means to minimize this. After some research I found that the best way to reduce this pain was to loosen my grip on the handlebars and put as little weight as I could on my wrists. I also bought a pair of good quality riding gloves. Both these steps ensured a comfortable ride. Moreover, with time I got used to the seating position and now I seldom have pain in my wrists and palms. I have heard people complaining about back pains but I hardly got one ever till now.
One more thing that I would like to mention here is that whenever I used to hit a speed breaker or a pothole all of a sudden at relatively higher speeds, I used to be hit near the fuel tank where I should not have, if you know what I mean. But I found out a way to stop that too and now I always ride while sitting a bit away from the tank. Pillion comfort in traffic is something not up to the mark. The lack of grab rails and the high, forward bent rear seat is the root cause of this. During sudden braking, the pillion gets swayed forward and pushes the rider in the process. In India, people are still not used to the position where the pillion either clings to the rider or holds the fuel tank, which is the pre-requisite here. One sided seating is a strict no-no, though I tried it once with a girl. I was riding at a mere 20 km/hr lest she should fall off from the seat. Triple riding is simply impossible and is not advisable or even legal.
Riding comfort on highways – The pillion (dis)comfort remains more or less the same unless the road is empty and smooth. Nobody wants to accompany me during long rides just because of the discomfort. But then sitting behind too has a technique and you have to actually sit on the front edge of the rear seat in order to be comfortable and stable. But for the rider, highways are simply heaven. Cruising on the highways is super fun and comfortable. I've had a long ride on the highways for as long as 4 hours travelling approximately 275 kilometres and it was pure bliss, no wrist pains, nothing; just the open roads and me on my beast.
Looks and finish – I don't think I need to write much in this section. It's undoubtedly the best looking bike in the country, period. The twin headlamps look like eyes and give it a monstrous appeal. The redesigned side cowls, raised split seats and race inspired body graphics give you a true 'Racing Instinct'. The fatter rubber has silenced critics who thought the rear looked more like a commuter. The tire hugger blends well, if not perfectly, with the rest of the design. It's a necessity though lest you would want your bike to be splashing mud all over the underside and the pillion's back. The build quality, right from the foot pegs, instrument console, display, switch gears and seat cushions to the aluminium number plate holder and paint job is top notch. Nothing to complain about in this regards. The glove box could have been a bit more spacious though as it is not even big enough to hold all important documents.
The Ride quality, top speed runs and cornering ability – The bike as you all know is extremely light and agile and with a peak power output of 17 PS, it can put many of its bigger competitors to shame with its top end torque, which is insane once you cross the 5000 RPM mark. The aerodynamics and the fact that the bike has been designed in a full-fledged wind tunnel are easily noticeable once you crouch behind the visor. The result is immediate and you can actually feel the aerodynamics doing their job. After my first service, I decided to take my ride for a spin on the highway and managed to get a top whack of 130 km/hr on the speedo. On my next run after my second service, I managed 136 km/hr, though I could have crossed the 140 km/hr mark had it not been for a row of trucks right in front of me. Given the minor correction in speedo readings, the figures are still nothing short of impressive.
I've seen a friend of mine put up a picture of his speedo on Facebook touching 145 km/hr. Now that's something for a 150cc mill! It can arguably be said here that this bike is the only 150cc bike to be able to touch approx. 150 km/hr. The bike just loves to be revved hard. It keeps demanding more and more throttle from you. It literally begs to be revved hard, unlike some other bikes who want you to take them nice and easy. The exhaust sounds become more aggressive yet soothing and lend the bike a characteristic 'race' feel. In my opinion at such high speeds, I have never heard a better sound of the exhaust than this beast.
There were no significant vibrations from any part of the bike despite me ripping the heck out of it. Sharp turns were a piece of cake, with the compound rubber doing its job meticulously. Not for a single moment did I feel I was going astray at turns. Cornering on the bike is pure fun. If you're one of those who want to get their knee downs often, this is the bike for you. The bike is insanely stable at corners and gives me a hell lot of confidence while hitting them. The tires stick to the roads like glue and the aluminium swing arm provides more than enough stability even at very high speeds. Trust me, this is one thing that is at par with the mighty Kawasaki Ninja 250R. Nothing else comes close. You will definitely feel like unleashing the Lorenzo, Rossi or Stoner in you.
Maintenance – So far, I haven't had any maintenance issues with the bike. I have got it serviced twice at the said intervals well in time and I was charged 650 bucks each time. Apart from that, I got the chain lubricated with the special lubricant provided by Yamaha. They advise not to use 'Mobil' on it to increase its durability.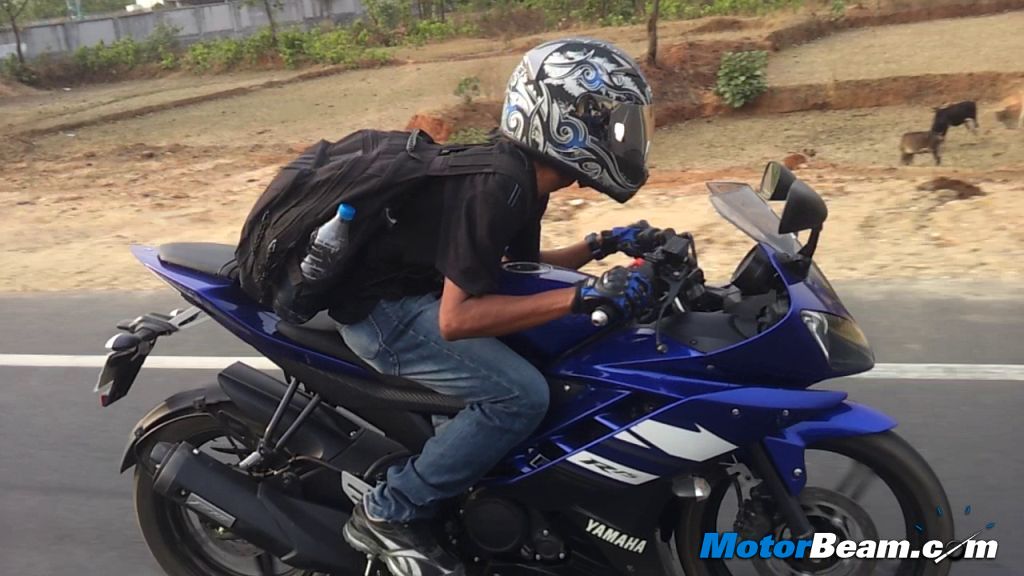 Safety measures and technology behind the machine – The bike is equipped with some very advanced sensors for various functions. The Lean Angle sensor is very useful in case of accidents. It shuts off the engine when the bike leans beyond a certain angle, like during a fall, so that the rider is not hurt by the moving parts of the machine. It has happened with me once and I'm extremely grateful to Yamaha to have provided that. There is a sensor in the air scoops in the side cowls, so that if any piece of clothing is kept, it again shuts the engine off to prevent fire resulting from the cloth getting into the moving parts. The most primitive lot of the PREVIOUS version lacked this safety measure and even did not have a wire mesh to keep out the cloth from the engine, which had resulted in a lot of blasts. Both these things have since been included in the subsequent units. Then there are sensors to check fuel delivery, temperature, fuel consumption, etc.
The tyres are made up of compound rubber and provide exceptional grip on all road conditions. The brakes are by Nissin of Japan and needless to say, are very efficient. One thing missing though is the ABS. The rear tyres do get locked during hard braking and despite that fact, the bike is well under control. The company should have provided ABS as standard, given the pricing. I think people wouldn't have had any problems spending a couple of grands more for safety. Nevertheless, I use the "pump" technique during hard braking and it never leads to locking of the wheels.
The engine is fuel injected and this means no cold start issues. 99.99 % of the times, the bike starts in one go, no matter what the conditions are. The ECU has been tweaked in this version to better suit the traffic, and you can feel the significant increase in low end torque. The liquid cooling ensures no matter how much or how harsh you ride, there would be no signs of overheating. It is a well known fact that water based coolants are far better at dissipating heat than the oil based ones and this is well evident after riding for long hours at a stretch. Also, the radiator fan gets switched on as soon as it senses the temperature rising, like in bumper to bumper traffic where it is a real boon for the engine.
Fuel Consumption – It gives me 35-40 km/l on an average. The figures drop to the lower limit on highways because of the fact that the speed always stays in the 80-90 km/h range. Some may think that it's a tad too less for a 150cc mill. But I feel it's kind of good for a bike that packs so much inside.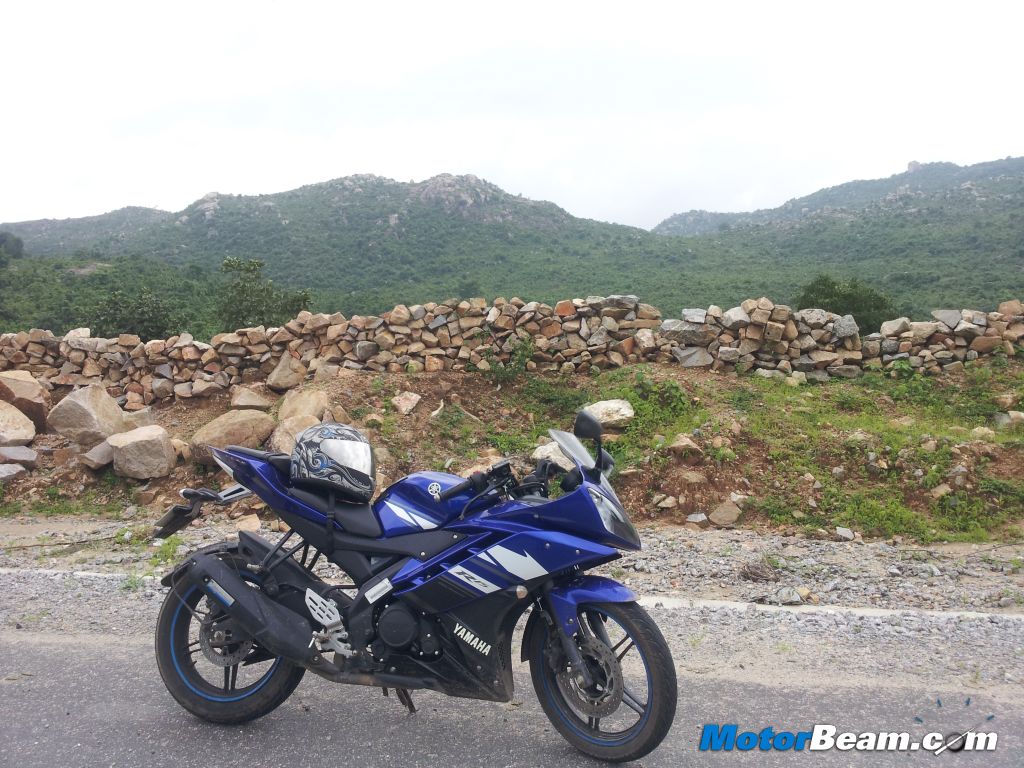 Instrument Cluster – It's one of the most beautiful of the lot. It is simple and decent, consisting of an analogue tachometer and a digital speedometer. The white back-light is very pleasing to the eye at night and makes the display quite readable. It has got all the information you would expect from a modern day bike except for a clock, which definitely proves to be a useful feature any day, atleast for me.
Lights – The twin headlamps, to be frank are a bit of a disappointment. They are bright but not bright enough. I'm planning to switch to good quality projectors or HIDs. Mind you, there are a lot of projectors and HIDs out there that are cheap and would appeal to you, but are actually worse than your stock headlamps. The rear LEDs and all the indicators are pretty good and are very efficient.
Suspension – This department is a bit on the debated side. The bike is equipped with a twin fork in the front and a rear monoshock, like most other bikes in this segment. However, the monoshock does not have any sort of adjustment option, not any that I know of. Since this is a track machine, it does not take potholes too well. I hope Yamaha improves this in the future.
Final Verdict – To sum it all, this is a bike meant for pure biking enthusiasts. It's not very practical at times but practicality is something I did not necessarily need all the time. I bought this bike just for the sake of sheer fun of biking and I do not regret my decision for even one moment. It gets everybody's attention everywhere I go, is fun to ride, maestro of stability at high speeds and corners, gets girls drooling over it, well what else do you need from a bike?
Well, as with all other bikes, it has got its own pros and cons too which I would break it down for you here.
Pros:
1) The best looking bike in the country.
2) Liquid cooled engine ensures no overheating.
3) Fuel Injection technology makes you forget about cold starts.
4) Mind blowing top end torque. Loves to be revved hard.
5) No vibrations at any speed whatsoever.
6) Maintenance free bike.
7) Sporty riding position
8) Fun to ride esp. in long straight and winding roads.
9) Efficient braking.
10) Decent fit and finish. Feels premium all the way.
11) Cornering on it is like a breeze.
12) Very good safety features e.g. sensors.
13) Sporty riding position gives good control over the bike.
14) Glue like grip of tyres.
15) Quality switch gear.
Cons:
1) Pillion comfort is something you will have to compromise upon.
2) Lacking a bit of bottom end torque. Requires frequent gear changes in traffic.
3) Lack of ABS.
4) Frequent pain in palms in the beginning. Riding Position takes some time getting used to.
5) Fuel consumption a bit on the higher side according to some people.
6) Headlamps not up to the mark.
7) Display lacks time function.
8) Very small glove compartment. Makes it impractical.
9) Riding in heavy traffic can be a pain at times.
10) Does not take potholes too well.
With this I come to the end of my story. For those of you who happened to read all of it, I thank you for having so much patience and considering it worth reading. I would also thank the Motorbeam team for letting me share my story with everyone. Last but the most, my parents for making my dream come true. I hope you had a good time going through the biography of my Blue Beast.
Ride Safe, and ALWAYS WEAR A HELMET. Remember, there's always someone waiting at the other end praying and hoping for your safe homecoming. Bon Voyage.
P.S. If you have any queries regarding the bike, feel free to comment here. I would be more than happy to help you out.
– Dewashish Robinson