Porsche Taycan – The First Real Rival To Tesla!
Interior – Displays!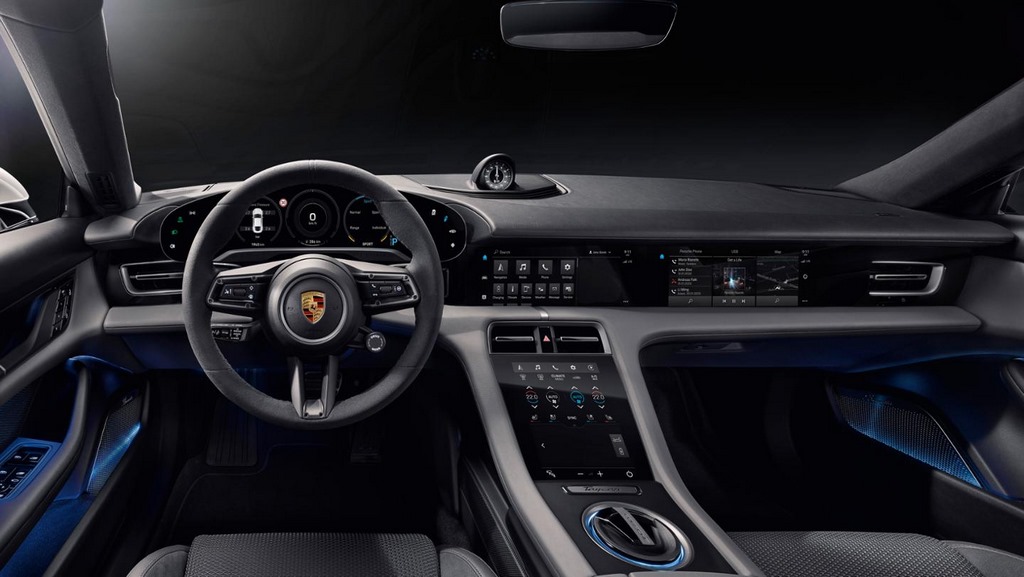 Open the door and hop in and the first thing(s) you realize is the number of displays in this car. With the optional passenger touchscreen this car's dashboard has not one, not two, but 4 touchscreens! The most interesting touchscreen is the gauge cluster. For now the sides of the curved display house software toggles including the headlight controls. However, the entire piece must be a touchscreen, meaning that if Porsche wants, and is allowed to, they can make the central part of the gauge cluster a touchscreen as well!
The steering wheel is very well made, but the drive mode selector could have done with some gloss black elements. The quirkiest of all of these touchscreens is the one taking up the center console. I believe this unit is the exact same one seen in the Huracan Evo from Lamborghini.
One place where Porsche Tay(can) singlehandedly beat Tesla is in interior quality. Made from the finest materials in the industry, and built with immaculate craftsmanship, this interior is definitely up to German standards. The rear seat experience leaves things to be desired for sure, and the 'foot garages' AKA carved out batteries don't seem to have done much for the headroom. Plus the windows don't roll all the way down at the back, adding to the cocooned feeling. It's good enough for moderately long journeys and has an optional touchscreen at the back for climate control. Taking the total tally to 5 touchscreens!