ATV-What Is It And How Usable It Is In India?
ATVs are among the finest options for pure adventure thrill, only if they were affordable to own.
For time immemorial, an intrepid explorer had to willingly or unwillingly rely on the brawny and bulbous SUVs such as the Toyota Land Cruiser to venture off the beaten path. These tall and tough machines that loaned a commanding view of the road ahead could really take you places with their 4X4 hardware, seemingly high ground clearance, a stiff but high utility providing chassis and those tyres that could soak in any level of pummelling thrown at them.
However, as with all nifty things, not everything was eking out resplendence as their monstrous proportions meant parking in tight spaces an ordeal besides guzzling overwhelming amounts of fuel.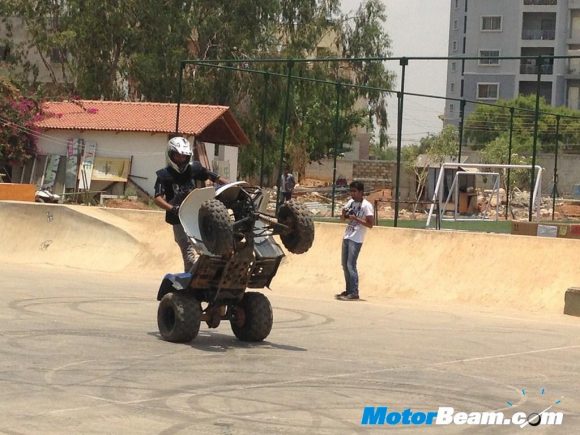 Result? In came a new trend or err, a new segment altogether which obliterated all the negatives of SUVs while retaining their long roster of merits too. These machines bore the nomenclature, ATVs (All Terrain Vehicles) that were pint-sized bantamweight 3 or 4 wheeled machines which with a tough suspension and low approach and departure angles, could embark effortlessly on roads unknown to mankind and enable you to fulfil your thrills in an unexpurgated fashion. With several brands putting their feet into this new segment, there's now a medley of options from eminent industry giants such as Yamaha and Polaris.
Currently, one wishing to experience such thrills can either opt for ATVs much bigger in size than the regular quadbikes or their more purposeful avatars, UTVs which allow 2 to 4 passengers to sit side by side, get a roof and will also allow you to haul in a cavernous amount of payload to suit the logistics requisites.
In India, there are several homegrown enterprises offering such idiosyncratic machines but the most prominent of them all is Polaris. But the question confronting us that begs to be answered is, whether these vehicles can be used to ferry yourself and your loved ones around in the urban jungle. As a matter of fact, ATVs aren't street legal yet in our country (most likely because of safety concerns) and even if they do, the unprecedented weather conditions is likely to compound their usability.
While UTVs such as the Eicher Polaris Multix or even the Bajaj Qute for that matter have commenced being used as support vehicles at factory sites, their limited top speed, body roll around the cambers and not being able to remain poised against violent windblast has led to low viability with regards to these being used as everyday companions.
What comes as the major factor of dissuasion for most potential buyers scouting an ATV is the price. Generally, these machines can diminish your wallets by Rs. 2 lakhs to Rs. 18 lakhs depending on the size, number of seats, roll cage existence and engine displacement. Any rational buyer would have this thought tinkling in his head if such amounts of money should be spent on an ATV or cars such as the Mahindra Thar which can be used for almost any purpose, anywhere. The Thar brims with technology and several convenience features the ATVs miss out on.
Notwithstanding the aforementioned ground realities, the light framework of these petite vehicles and greater accessibility to people of all ages contribute towards a strong case for these. The fact that teenagers can also savour the finest moments of their life scudding these machines through obstacles is also one big boon of having these.
If not for anything else, these machines will certainly pacify those wanting to elude the excessively computerised cockpits of machines and are on a keen lookout for minimalism that was only possible in the era of a sheer digital detox. Oh wait, that's long gone and might never come back, even if history repeats itself.