Cars That Could've Been The Trendsetters In The Indian Market
The Indian auto industry is one where certain vehicle types work well while a variety of them, fail. Here are some examples of cars that could've conjured up a trend but failed instead.
Some cars join the band while others create a trend. The Indian automobile industry, since its early years over a century ago has evolved dramatically with a slew of indigenous and multinational players making their moves and orienting the potential buyer towards new vogues with astounding verve. Whether these cars or their marques stayed for a substantial amount of time or just enjoyed their sojourn in India, these trendsetters did write the books of history interestingly and had us spoiled for choice. However, there were some cars which could've been the trendsetters but were seen as an oaf by the masses. Let's take a glimpse of some of these.
Premier Rio
Launched in 2009 as the recuperation kid for Premier Automobiles Limited (PAL), this is the pioneer that established the sub-compact SUV segment in India. Available with two engine choices encompassing a 1.2-litre petrol and a 1.3-litre Multijet diesel sourced from Fiat, it had the go to match the show but was lacklustre in interior quality, sported a vanilla features list signs of cost-cutting were too conspicuous for anyone to give any approbation to this proposition.
However, with 200 mm ground clearance, a boot-mounted spare wheel, decent looks and an ex-showroom price tag of Rs. 6.7 lakhs for the top-end variant, it could've been a plenary steal deal for those ready to brook some compromises while looking for an affordable SUV with a smidgen girth. However, it was only post the launch of Ford's most significant car, EcoSport in 2013 that this segment was given a sneak peek at by the Indian crowd. The EcoSport did become the trendsetter eventually.
Hyundai Getz Diesel
Over the years, India has been a lucrative habitat to several performance hatchbacks available for a shoestring budget such as the Fiat Punto Abarth, Palio, VW Polo GT TSI, Hyundai Grand i10 Nios Turbo, i20 Turbo, Tata Altroz iTurbo and the JTP iterations of the Tiago and Tigor among others. However, there was one car which tried to work out things in its favour by offering a diesel engine that produced a behemoth-like 110 HP and a solid 235 Nm of thrust. This was the Getz diesel.
However, with the Getz conceptualising a potent brand name for itself as a pint-sized city hatchback and the seldom need for anyone back in the day to opt for a diesel hatch, it came in silently and left without turning any rocks. Many diesel hatchbacks even today do not produce such a high peak output as the Getz did over a decade ago.
Skoda Yeti
It almost commenced a unique segment of its own with its tautly wrapped up and chiselled proportions. It carried a boxy visage and had incongruous creases along the side profile that flanked a unique appeal. With features such as 4X4 capability, a DSG automatic ratchet, touchscreen infotainment system, leather seats and steering mounted controls, it sported a generous equipment basket back in the day. However, its pricing gave it a wrong landing into the Toyota Fortuner territory which was better than the Yeti on all grounds.
The fact that it seated seven gave it a prerogative over this Czech SUV and made it far more enticing which annihilated the Yeti completely from the market. Its design, though unique, aroused a difference of opinion as Indian market still welcomes SUVs that are bulbous, tall and boxy. This car would've otherwise paved the way for many automakers to launch such cars in future.
Volkswagen Cross Polo
This car managed a grave attendance record on our roads simply as there was hardly a business case for itself. As the word suggests, the Cross Polo aimed to being perceived as a jagged up version of the standard Polo with just a few cosmetic updates and that being an abuse friendly black bumper to increase its road presence, different wheel spokes, fog lamp design, roof rails, chrome-plated wing mirrors and a slightly tweaked grille that was slimmer than its ordinary counterpart.
People were more than sufficed with the standard version which offered a diverse ambit of engine options and a sporty ride. The Cross Polo could've garnered a USP by offering more ground clearance but that wasn't the case either. Having nothing substantially unique to offer to its consumers, it faced its imminent decline after being around for a stint. Its rivals, the Toyota Etios Cross, Hyundai i20 Active and the Fiat Urban Cross/Avventura too met the same fate despite trying hard to offer sporty bits and SUV like road presence.
Volvo S60 Cross Country
While the above mentioned cars catered to buyers needing affordable but swanky hatches with added ground clearance, here was one luxury sedan with a slightly coupe orientation and 201 mm of ground clearance. Its raised profile and bumper were testimonials for standing so above the ground. It looked special and plush at the same time while carrying the foundation of the standard model. However, the coupe segment is one where it becomes difficult to determine what will be a hit and what will be a miss.
Acrimoniously, the S60 Cross Country caught the fancy of a marginal number of people for many reasons. The obvious bit was its unconventional design. However, what articulated its sore points is Volvo's poor brand image back in the day, lower resale value and the interiors too, which felt a bit archaic compared to its rivals. In the years that fleeted by, some cars such as the Audi A5 Sportback did manage to turn some heads.
San Storm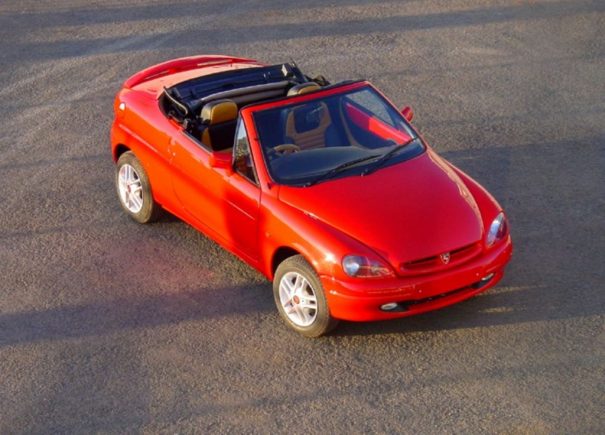 Millennials might reminisce this 2 door coupe from the early 2000s with a sympathetic grin on their face. Grin because it was the brainchild of a Goa-domiciling businessman to provide the feel of a sports car for a cheap, err, very cheap price Rs. 6.7 lakhs (ex-showroom price when it got discontinued). And sympathetic because both, the car and the company met a woebegone destiny as it barely managed to sell. Reason? Stodgy build quality. While the design did look fluid and sporty, take a look at all the parts and you will realise everything was handed down to it by other cars.
For example, the headlights came straight from an Opel Corsa, vents from the Maruti Suzuki Gypsy, HVAC panel from the Fiat Uno and that humongous steering wheel, well, from the Daewoo Cielo. The car was manufactured in a shack in Goa and this is how it got the crucial parts/components from other manufacturers to deliver the 100 samplings that were ordered. However, after the Storm, the company also had another rally-spec car in works called 'Dune' which was supposed to debut in 2004 but never bore witness to the light of the day after this massacre.
While more prominent homegrown carmakers such as DC, Tata Motors and Mahindra have tried launching cars in the affordable coupe segment, the Avanti happened to be an ergonomical disaster, Tata's Tamo brand didn't progress and with it, its Racemo concept had to get aborted and even the Mahindra Funster concept hasn't been in talks for many years now.
Mahindra Revai
The Reva-i is one car which laid the foundation for heralding the electric mobility in the Indian market in the early 2000s. It wasn't just a fully-electric vehicle, but appeared different too with its stubby all round proportions and compact silhouette which made it quite a sight on our roads. It had a simple but futuristic interior too with a digital instrument binnacle and a screen for battery consumption that took centrestage on the dash. It almost made a convincing case for itself with automatic transmission, capacity to seat 4 and a price tag of under Rs. 4 lakhs (ex-showroom).
However, its top speed of just 80 km/hr and very limited range didn't make it a practical everyday companion. Moreover, for the same price, gasoline powered cars such as the Maruti Suzuki Alto made more sense for city runabouts and occasional excursions on the countryside. Had this car had more range, it would've surely paved the way for a tremendous electric revolution in our market much sooner.
Honda Civic Hybrid
Arguably the very first hybrid car of the Indian market, the Civic Hybrid came alongside its gasoline counterpart. Call it the black sheep of the siblings or too ahead of its time, this car offered a cutting-edge hybrid hardware which was unbeknownst to everyone at that point of time in 2006. Its neoteric design coupled with a futuristic interior and digital dials was intended to enthrall its audience but a price tag of Rs. 26 lakhs made it stupefying expensive to own and maintain. The lack of adequate infrastructure was another major roadblock which led to the sluggish sales of the car. However, Toyota did manage to outwit Honda with the Camry Hybrid as times had changed quite a lot by their inductions.
Hyundai Accent GTX Tornado
Launched in the same year as one of India's most coveted cars, the Honda City VTEC, the Accent GTX Tornado was a limited edition of the brand's fast-selling executive sedan. This more feisty version came powered by a 1.6-litre DOHC petrol engine that churned out 102 HP and 141 Nm of torque. It did the nought to 100 km/hr run in under 13 seconds (which was swift back in the day) and could stretch its heart out to 186 km/hr.
Its unique attributes came in the form of a golden insignia on the hood, a boot-mounted spoiler, 14″ alloy wheels and different upholstery options. This car could've spawned the performance sedan segment in India. However, with Honda having better brand names at that point of time for its legendary VTEC mills, it was the City which offered itself as a nippy executive sedan that forgave one's wallet and happened to brew the performance sedan segment in India.