Car Manufacturers' Capacity Utilisation In India, Hyundai Leads
Hyundai leads in utilisation of its production capacity in the financial year 2015-16, while the national average hovers around 55%.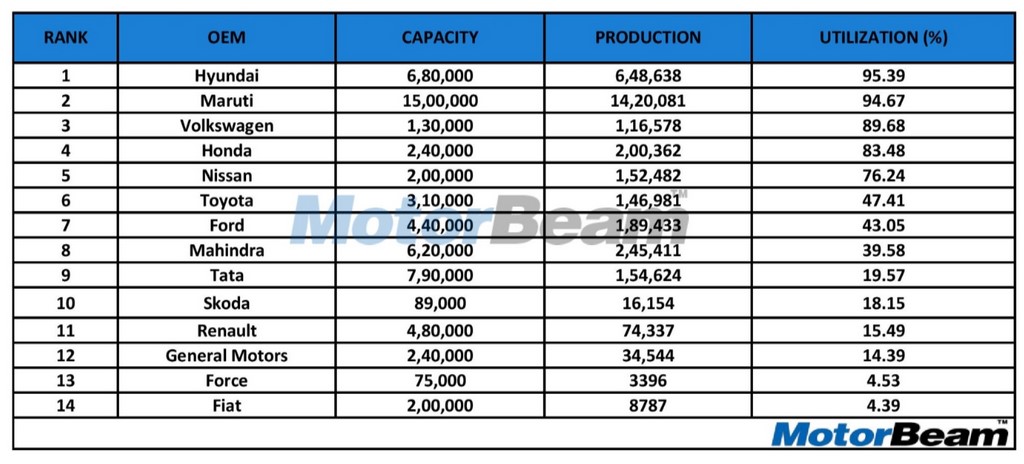 The Indian auto market has been one of the largest growing markets in the world. In the financial year 2015-16 it has also managed to overtake China in terms of growth rate. However, when it comes to growth efficiency, India is still seen to be struggling. A lot of its production capacity is being wasted due to varying factors, a fast moving market and somewhat restrictive policies.
A major amount of Indian OEMs are finding it difficult to shift products. This in turn causes them to slow down their production. This has caused the capacity utilisation of the Indian market to fall to as low as 55%. Capacity utilisation shows a clear picture of a manufacturer's standing in the market. It is a direct representation of product success. A high capacity to utilisation percentage also shows good market research and overall knowledge of what the consumer wants.
In spite of being the largest car maker in India, Maruti Suzuki takes second place when it comes to production capacity utilisation. That crown was taken by Hyundai, courtesy of its highly successful cars. Hyundai has teased Indian customers by loading their cars with a plethora of features. This tactic seems to have worked wonders for the firm. Their latest launch, the Creta, already has a long waiting list; in some places over 6 months. Hyundai also maintains a very good export ratio for its products, which further aids them for maintaining higher utilisation.
Maruti Suzuki on the other hand rides on its wave of serviceability and bullet proof reliability. It also enjoys a wide service and dealership network, and coupled with its good resale value, registers the highest sales in the market, with a close second in capacity utilisation percentage. Volkswagen, Honda, Nissan also show decent utilisation of its production capacities.
On the other side of the scale we have Fiat, Force Motors, General Motors and Renault. Fiat has been plagued by numerous issues in the past regarding its after sale service and dealer network. However, the Italian firm is trying to improve its standing this year by introducing the Abarth brand, well known worldwide for producing pocket rockets for enthusiasts.
General Motors too has been struggling with sales for a long time now. Their products don't seem to have much demand in the market. The company had also stopped production in 2013 due to issues relating to the Sail. However, with the introduction of the Trailblazer and the 2016 Cruze, the company is looking to improve its sales. Many companies have also tried to compensate their poor domestic sales by increasing exports, GM is one of them.
Car Manufacturers' Capacity Utilisation In India
– Hyundai leads the table with a 95.39% utilisation of its production capacity
– Fiat meanwhile shows a dismal 4.39% utilisation
– The average capacity utilisation of car manufacturers is around 55%