Chevrolet Camaro Wishes Ford Mustang Happy 50th Birthday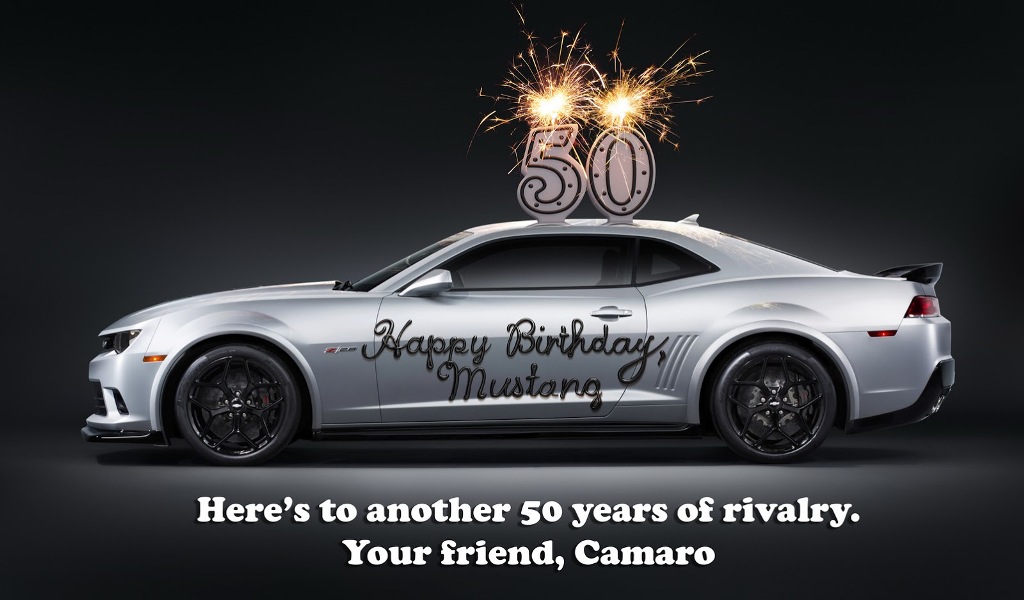 The rivalry between Ford and Chevrolet has been legendary. If not in other parts of the world, a simple debate about the two can actually turn violent in North American or even Australia where both the brands have a cult following. Over the years, not only has the rivalry evolved, but also given birth to new and better muscle cars from both the manufacturers. Celebrating 50 years of the legendary Mustang, rival Chevrolet Camaro has sent a very friendly greeting to Ford to wish a very Happy Birthday to its rival. The card dawns the new Camaro Z/28 finished in metallic silver icing and candles on the top.
The whole tradition of muscle started with Ford's all-new model which made its debut in 1964. The Ford Mustang not only was an affordable rubber burner, it also made perfect sense for the open straight roads of America. The car's success made other brands to follow suit with Chevrolet's equally celebrated Camaro and Pontiac Firebird models competing with the Mustang over the years. For over five decades, the Camaro and Mustang have battled for victory on the roads, race tracks, drag strips and much more.
General Motors says it firmly believes that the healthy competition between the two brands has become a driving force for constant improvement. The competition is a big part of why both cars are so amazing and popular today. The Mustang has over the years become an American icon. Ford too kept the car a strict left-hand drive over the years, but now plans to introduce the next generation model with a right-hand drive in other markets like the UK and other parts of Europe. Hope GM too follows suit on this one with a right hand drive version of its pony car.