Fiat Launches Punto 90 HP Sports – Live From Event [Updated]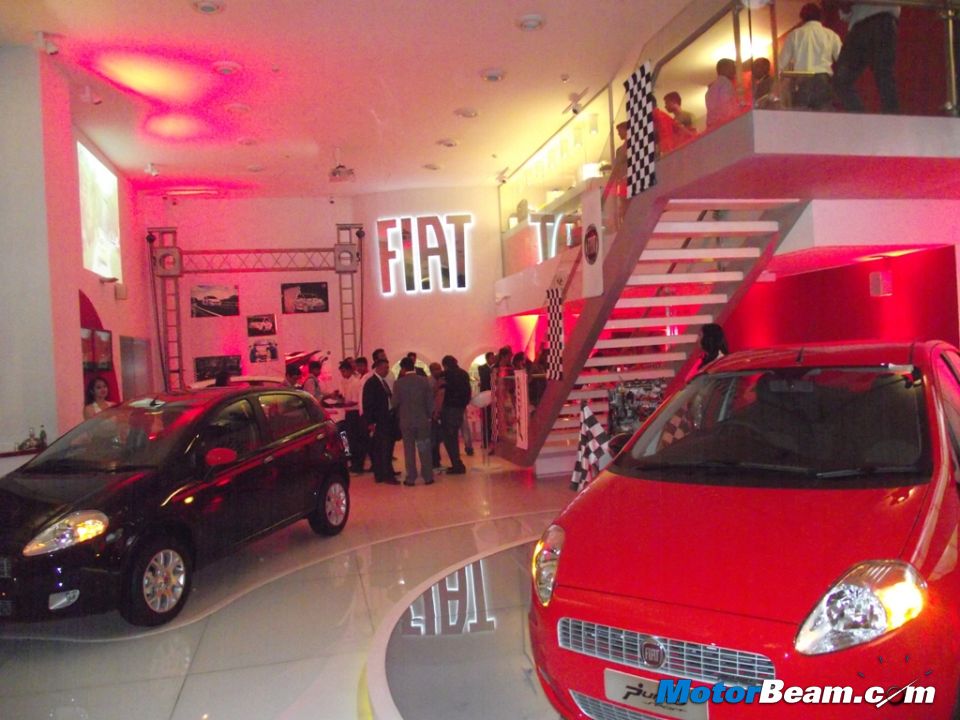 We are the launch of the most powerful hatchback in India, as Fiat likes to call the Grande Punto 90 HP. The Italian automaker has launched a limited edition version of the Punto Sport. The Punto 90 HP is powered by the same 1.3-litre Multijet diesel engine but with variable geometry turbocharger, producing 93 PS of peak power output at 4000 RPM and 209 Nm of peak torque output at 2000 RPM. Mileage is a claimed 20.5 km/l. Fiat has also inaugurated the second Fiat Caffe in the country in Pune. There are only 12 such Fiat Caffes worldwide. Fiat is also making a major push on the retail front by setting up 20 independent dealerships this year.
The limited edition Fiat Grande Punto Sport gets chrome accented interiors, chrome door handles, chrome exhaust tip, aluminum pedals, door sil, body decals, red stitching on the seats and red/black coloured rear view mirrors. The Grande Punto Sport is available in three colours namely Exotica Red (gets black rear view mirrors and decals), Bossa Nova White and Hip Hop Black (the latter two get red coloured rear view mirrors and decals). All the other features from the previous Punto 90 HP are standard on the Limited Edition Sport variant. Fiat has priced the Punto 90 HP Sport Limited Edition at Rs. 7.36 lakh (ex-showroom, Delhi) and Rs. 7.58 lakhs (ex-showroom, Mumbai).
[youtube:http://www.youtube.com/watch?v=3Vtz_ylpqbs 540 375]
Fiat now has a good product portfolio with the Linea and Grande Punto both revised for 2012. The company is now focusing its efforts on its service network. Fiat has broken distribution ties with Tata Motors and will be launching its own set of dealerships across the country. This should get Fiat back into contention and help it recover volumes in the B and C-segments.
Read our review of the Punto 90 HP.