Lamborghini Opens Showroom In Bangalore; Interview With CEO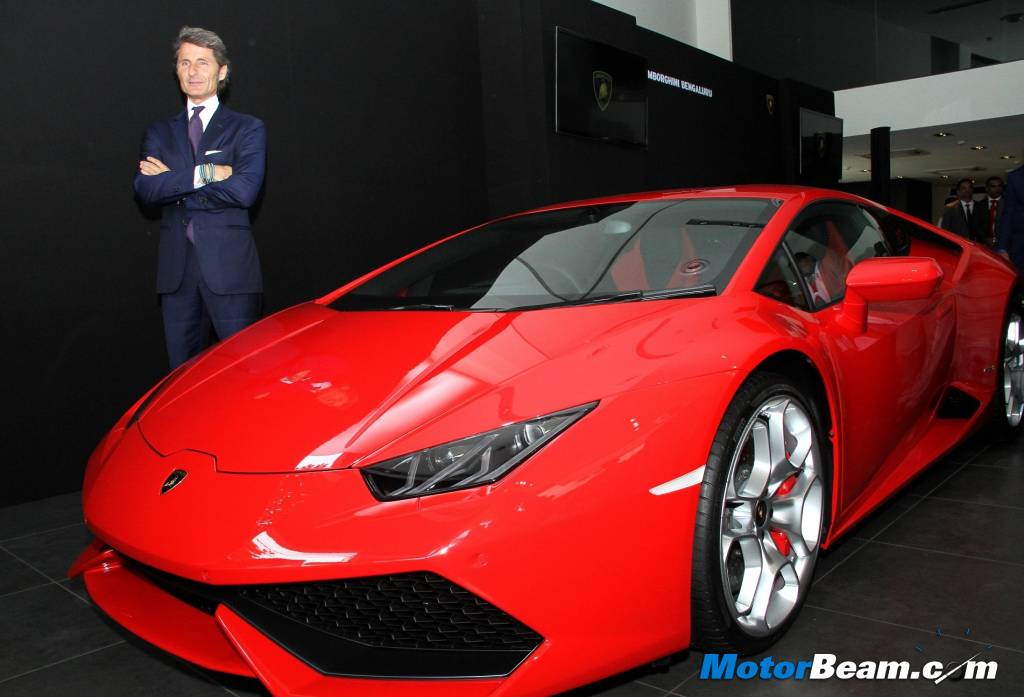 The Italian super-luxury sports car maker "Automobili Lamborghini" has officially unveiled the company's third showroom in the country at Bengaluru; the other two being at Mumbai and New Delhi. The showroom was inaugurated by none other than the President and CEO of Automobili Lamborghini S.p.A, Mr. Stephan Winkelmann. Located at the heart of the city just adjacent to UB City, the showroom displayed a ravishingly red Huracan accompanied by a white Aventador.
The Bengaluru dealership is spread over an area of 4350 sq. feet and is armed with a distinct customer lounge. Lamborghini has also made sure that the brand attributes of the company is within the showroom and the staff has been specially trained at Italy to ensure that the brand is very close to its customers.
Mr. Winkelmann shared insights of the company which seems quite impressive. He stated that the company dedicates 20% of its turnover to R&D. The distribution of its supercars is evenly poised across the globe with 30% for Asia Pacific Countries (APAC), 34% for Europe and Africa while 36% for the American continents. Lamborghini has 129 dealerships across the globe with 6 National Sales unit, of which one is India. Currently the Italian car maker offers Aventador LP 700-4, Aventador LP 700-4 Roadster and Huracan 610-4 for sale.
Mr. Stephan said "India holds a good potential and recognising this, Lamborghini is among the early entrants of the super-luxury sports car brands to establish itself in this country. Today, the audience here for Lamborghini is far wider than just its owners. The brand is recognised and appreciated for its pure design and cutting-edge technology. India is an important market for us, and I look forward to continuing our success and commitment in India."
We had a quick Q&A with the Lamborghini supremo –
Q: What are your plans for India?
A: We are having high confidence on India. We are looking at increasing the number of dealerships. It's not about the number of cars sold; Lamborghini is looking for geographical distribution of its dealership network; currently we are reviewing three new dealerships. The sales will be low unless the import taxes are reduced.
Q: Any plans for an SUV?
A: Currently there is no final release for any such project.
Q: What is the share of Indian market for Lamborghini?
A: India accounts for 1% of global sales for our country. For this year we have sold 3 units.
Q: What is waiting period for the vehicles?
A: The waiting period for Huracan is 8 to 10 months while that of the Aventador is 6 months.