New Car Launches In Next 6 Months
This festive season will be the apt time for most of the car makers in India to launch their offerings. The automobile segment had seen a slump in growth owing to various factors, one being the increasing fuel prices. It is expected that over 30 new cars from various car makers would debut this Diwali. The festive season has always been a sales booster for the companies and introduction of so many cars would surely revive the market. Car sales had dropped to 7 percent in the last four months which was earlier standing at a good 30 percent.
The new cars would come from various segments catering to different customer choices. There would be Maruti Alto 800 and then there would also be Jaguar XJL Ultimate. The line-up includes a mix of micro small cars, hatchbacks, sedans and sports utility vehicles. Shown below is the list of cars provided by Economic times. However we do not feel all the 30 different products would be hitting the road this festive season.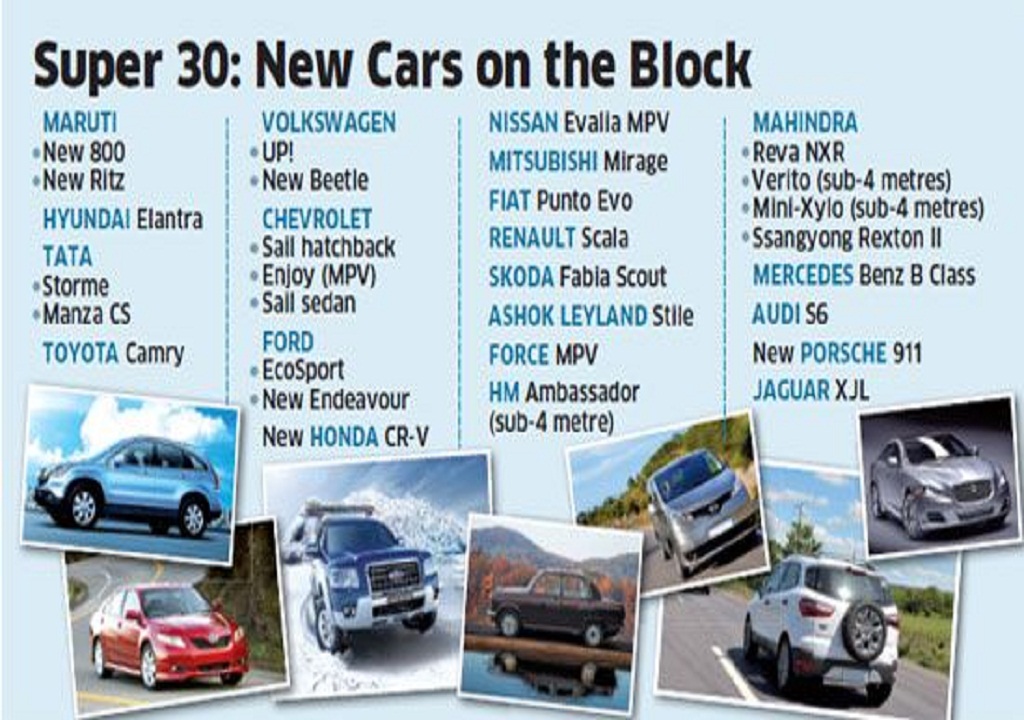 Maruti Suzuki would debut its Alto 800 which has huge potential for the company. It would compete with the Hyundai Eon and Tata Nano and would be priced around Rs. 2 Lakhs. Toyota would launch its Camry on 24th August which would compete with Volkswagen Passat, Honda Accord and Skoda Superb. Volkswagen would roll out its UP!, the smallest car from the car maker that would compete with Maruti A-Star, Hyundai i10 and Chevrolet Beat in the small car segment. However this launch is still unconfirmed and if it goes through, it will happen only in 2013. Already, as the festivals have started, there has been considerable increase in sales and car makers expect this trend to continue over the next few months.
Source – Economics Times