Suzuki GSR250F Unveiled In Japan, The Full Faired Inazuma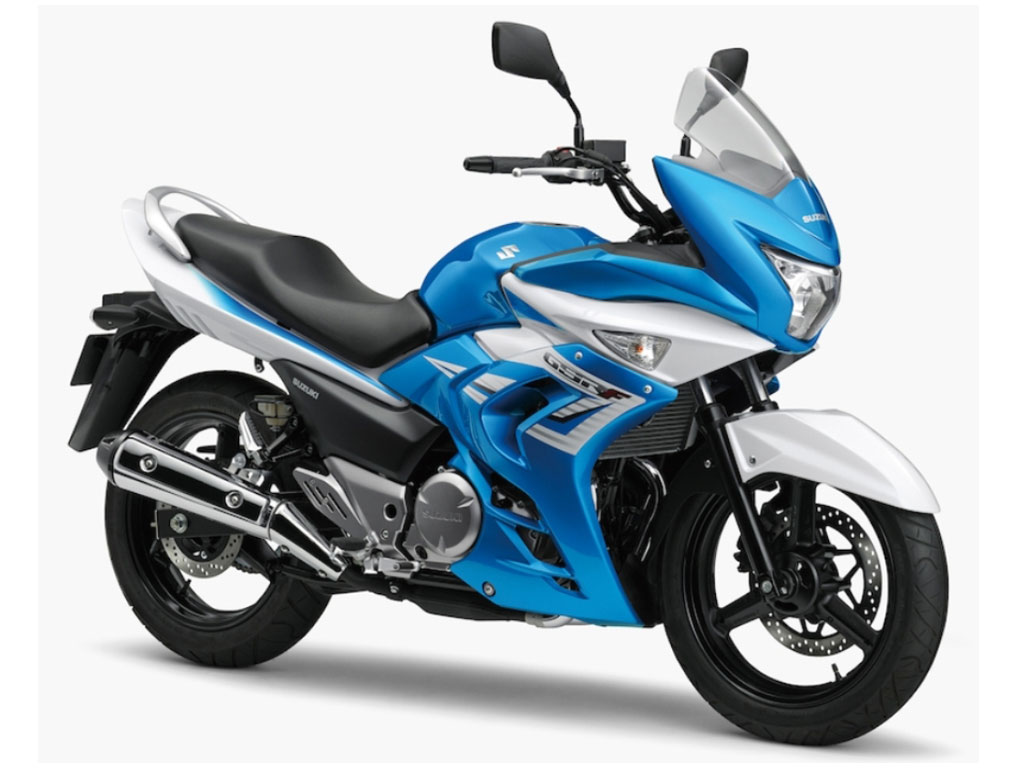 Joining its naked and semi-faired avatar, Suzuki will be launching a full-faired version of the Inazuma (GW250 in other markets) in Japan and the bike has been named as the 'GSR250F'. Carrying the same underpinnings, the GSR250F gets a front cowl with side fairing that differentiates the quarter-litre motorcycle from its street-fighter version. However unlike the modern Kawasakis, Yamahas and even Hondas, Suzuki goes old school in terms of styling and the GSR250F's design is rather bland and lacks aggression.
Visually, the changes are not drastic and the Suzuki GSR250F can be easily recognised to be from the Inazuma family. Additions include the wind protector and high set handlebars that should make the bike even more capable of touring for riders. Suzuki has also retained the 3-spoke alloy wheels, exhaust and the extra long single seat on the GSR250F. There however has been a slight change to the dimensions though, with the width increasing to 790 mm and height to 1255 mm, while the length and wheelbase remain the same at 2145 mm and 1430 mm respectively.
Powering the Suzuki GSR250F is the same 248cc liquid-cooled, twin-cylinder engine that produces 24 PS of power at 8500 RPM and 22 Nm of torque at 6500 RPM, paired to a 6-speed gearbox. While the figures might seem decent enough, the GSR250F manages to tip the scales at a heavy 189 kgs, which in turn makes for an inconsistent power to weight ratio. In comparison, the Honda CBR300R and the Kawasaki Ninja 250 turn out to be crackling performers not only with higher power output, but also better power to weight ratio. Nonetheless, Suzuki Japan claims a fuel economy of 40 km/l when driven at a constant 60 km/hr.
The GSR250R is scheduled to launch in Japan on 18th September at a price of 5,14,080 Japanese Yen (Rs. 2.96 lakhs). Suzuki will be offering the bike with two colour options including Pearl Nebular black/blue and Triton Blue Metallic/Pearl Glacier White. With its uninspiring looks, the company too isn't very optimistic with sales either and has a set a rather reasonable target of retailing 3300 units in the first year. For now, sales of the Suzuki GSR250F will be limited in Japan itself and there is no confirmation yet if the company will launch the model in other markets.
While the Inazuma is a very good bike, it hasn't been able do good business in India. The high pricing was a huge deterrent for most customers was resolved recently when Suzuki India slashed the prices of the quarter-litre bike by almost a lakh. However, with other manufacturers offering so much more at a significantly lesser price, would you still buy a full-faired Inazuma over the competition in the segment? Let us know your opinion in the comments section below.