Tacita T-Race – A New Electric Enduro Bike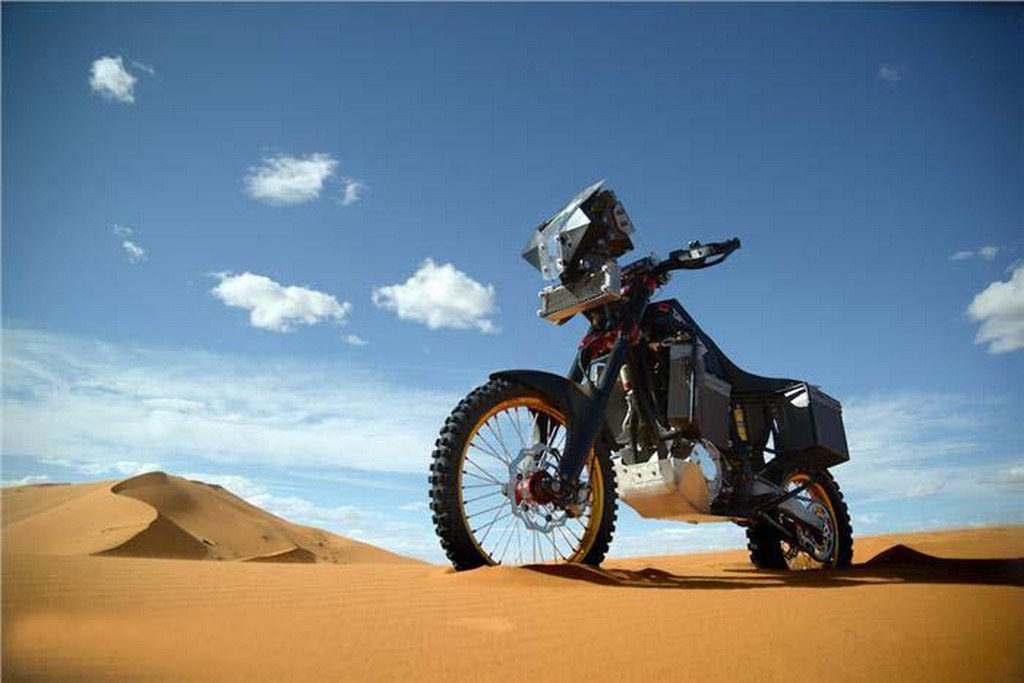 An Italian company, Tacita, has launched the latest electric enduro off-road bike called the T-Race. This bike was tested this month at the Merzouga Rally in Morocco where it not only competed, but also won in the 'New Energy' category. This makes it the first ever electric bike to start the rally, first to traverse the whole distance of the rally as well as first to finish the rally in history. The bike was ridden by Canadian Dakar and rally racer, Patrick Trahan.
This amazing bike was conceptualized as an all electric bike, that was road legal, to be enjoyed on proper off-road trails, riding in the countryside as well as to compete in rallies with a battery range enough to last a full day of riding keeping up with petrol powered bikes. It was designed and engineered to be a typical Italian enduro bike with high-tech features, great ergonomics and great fun to ride, along with zero emissions, no noise and protection of the environment.
The Tacita T-Race has an aerodynamic high-tech design with perfect weight distribution to make it extremely agile and maneuverable. It has a three phase alternate current, maintenance free motor delivering normal rated power of 10.7 HP and a peak power of 32 HP. It has three settings – Eco, Sport and Boost for various power requirements. The T-Race also has a multiple-speed gearbox, which most electric vehicles do not have.
There are four battery packs on the Tacita T-Race, two in front and two at the back specially positioned to keep the centre of gravity a low as possible offering ideal weight distribution. The batteries are the latest advanced rechargeable Lithium Polymer with very low weight and high output and a storage capacity of 10.6 kW and have a range of about 100 kms in rally or race conditions. They are capable of two thousand charges (or 1,00,000 ksm) after which the residual capacity is 80 percent. The battery requires 9 hours to charge from a 220 v socket but can be charged in three and half hours using a 3 kW charger.
Tacita will also supply a trailer for racing or rallying purposes that acts as storage for the bike as well and a Solar charging station. The trailer has solar panels on the roof which stores electricity which can be used at night to charge the T-Race. The chassis, suspension and tyres are the latest in the off-road / enduro category giving it superlative handling, agility and balance required in rally and off-road conditions.
Tacita boast of typical Italian craftsmanship and passion in building the T-Race with cutting edge technology and customers can get their bikes tailor-made to their requirements. Also they will sell riding gear, helmets, bags and accessories for the customers all hand made in Italy. From March next year, the company will start organizing tours for customers to special trails and off-road destinations in the glorious Italian Alps which will give an experience of what the T-Race Enduro bike was built to do.