Top 10 Selling Cars In January 2017, Maruti Rules Again
Maruti Suzuki begins 2017 with a bang with seven out of the top 10 selling cars coming out of its stable in January.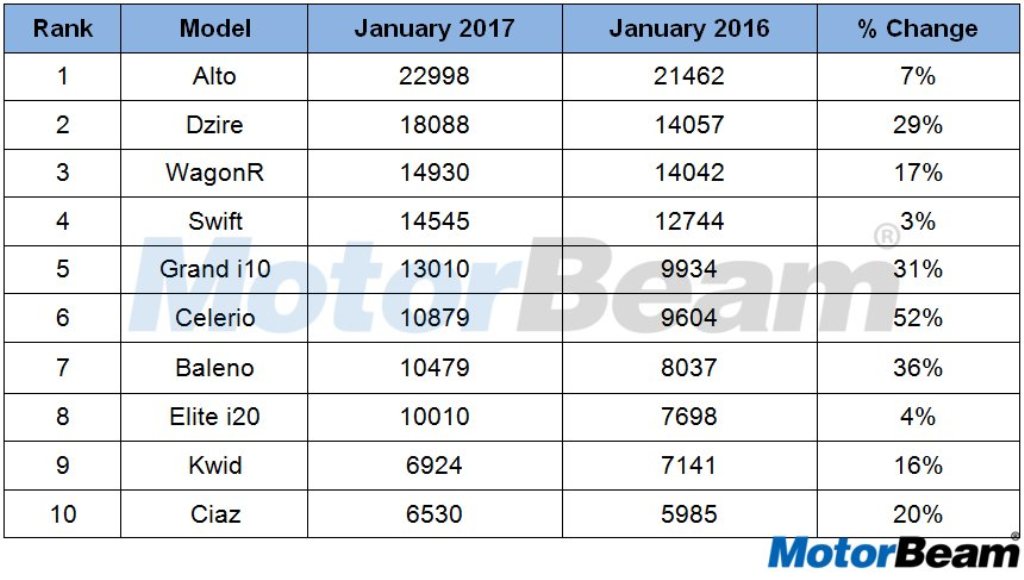 The Maruti Suzuki juggernaut continues to roll with the Indian company producing yet another blockbuster month in sales. Just like the past several months, the top order sees little shuffling with the Maruti Alto retaining its supremacy as the best-selling car in Inda yet again by selling 22,998 units. The Maruti Swift DZire went one spot up to second position with year-on-year growth of 29 percent and stood at 18,088 units. The Maruti Swift on the other hand was trumped by the humble Wagon R to grab the third spot with 14,930 vehicles sold last month.
The Maruti Swift on the other hand grew by just a slim margin of 3 percent and found 14,545 homes, beating its primary competitor, the Hyundai Grand i10 with just a handful of cars. The Grand i10 itself had a strong month with 31 percent jump in sales, closing the books at 13,010 vehicles sold. The Grand i10's stablemate, the Elite i20 just saw a 4 percent rise in year-on-year numbers and sold 10,010 cars last month.
Beating the stylish Elite i20 was its main rival, the Maruti Baleno, which sold a lump sum of 10,479 vehicles. But surprisingly, the Baleno was topped by the hum-drum Celerio by 403 units and sold 10,879 copies, thereby registering a strong growth of 52 percent. The Kwid continues to shine as bright as it can and was delivered 6924 times, which is down from last year by 16 percent. Last in the list is the Maruti Ciaz, which due to its extreme value-for-money package and styling is ruling the C-segment sedan segment with 6530 vehicles sold last month. Overall, it was a good 30 days for the Indian automotive industry which is fresh out of the demonetisation phase.
Top 10 Selling Cars In January 2017
– The Maruti Celerio sold a total of 10,879 units, 403 more than the Baleno
– The Maruti Ciaz continues to rule as the C-class topper
– The Swift was left behind by the Wagon R yet again