Toyota's Upcoming D22 SUV Called Hyryder?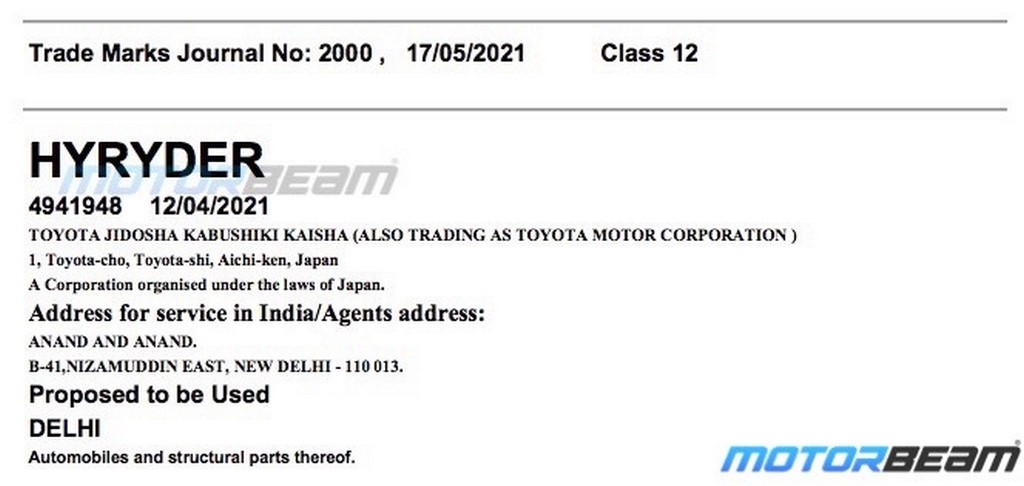 Toyota Hyryder is likely the name of the upcoming D22 SUV from the company being developed with Maruti Suzuki
The upcoming Hyundai Creta-rivalling SUV from Toyota codenamed D22 is likely to be called Hyryder. The Japanese maker trademarked the name last April and sources say it could be the name of the much-hyped SUV.
This project is a joint effort of Maruti Suzuki and Toyota wherein the partners will make 2 premium SUVs 1 for each with segment-best features and strong-hybrid powerplant to take the fight against Hyundai Creta and Kia Seltos.
Both cars will be manufactured by Toyota with majority of the component suppliers from Maruti Suzuki's stable. While Toyota's model has been codenamed D22, Maruti Suzuki calls its version YFG.
The unofficial production-ready sketches of the 'Hyryder' got leaked online a few days back.
At the front, there's a typical Toyota design language with a large grille taking the shape of a trapezoid but with curved edges. A slit on the bumper can be seen at the top.
The LED drls look razor sharp and gel well with the bonnet chrome strip that runs at the center. The spoke alloy wheels provide a pleasant look at the side.
The Hyryder will very well be a proper SUV measuring more than 4.3 metres in length providing ample space on the inside like the Creta. It will also sport bulbous dimensions for good road presence.
With the commencement of trial production of both the cars, their unveil might happen 1 after another by around June or July with launch happening thereafter around Diwali.
The SUVs are built on Toyota's low-cost DNGA platform that does duty on many Toyota and Daihatsu cars abroad. The SUVs will be completely localised for keeping costs in check.
They are expected to be powered by 2 petrol engines, each with a hybrid drive unit. While the first might get a mild hybrid, the second will be a stronger system delivering higher power and better mileage.