Tuned TVS Apache Hits 100 In 6 Seconds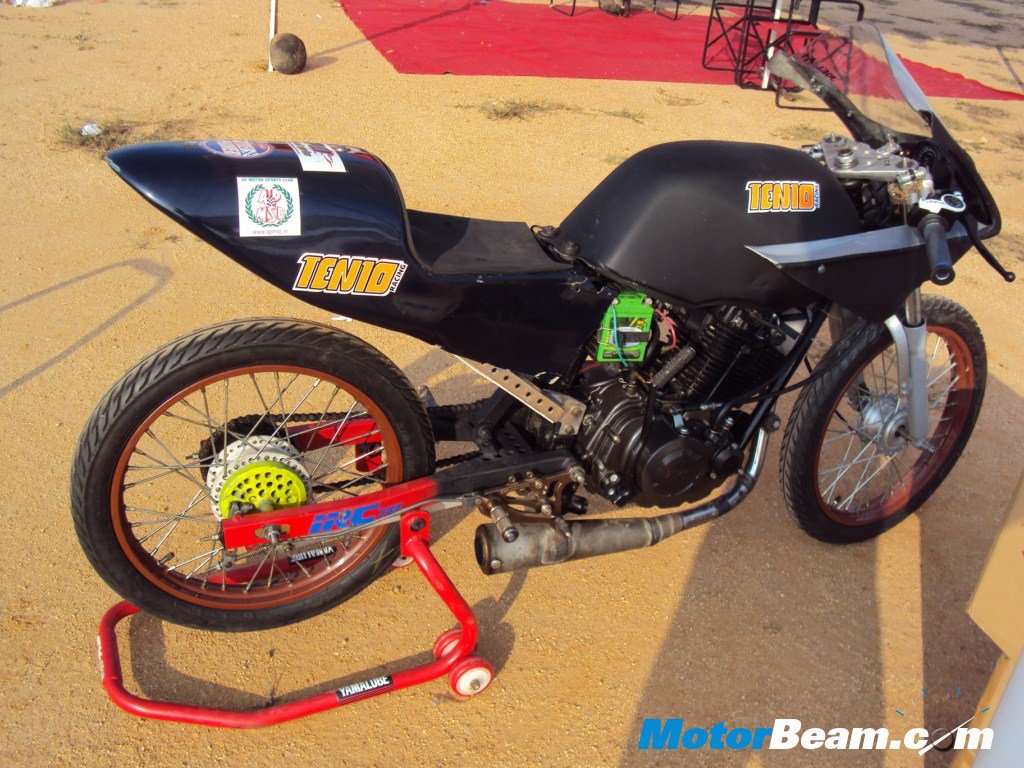 One of the most under estimated engine on Indian roads is the one present in the Apache bikes by TVS. Alternatively one could even call it a gem of an engine. The engineering that has gone into this unit is almost biblical. The same version of the engine, also used in the Fiero bikes, has been used for racing all around India, in various competitions such as dirt, enduro and road / track racing by TVS. The real secret behind this engine is its origin, designed in Japan by Suzuki, tried and tested to its limit for over 15 years in India, and now on the roads giving all the bigger bikes a run for their money. Unlike the R15 engine, the Apache engine is not a smaller version of something bigger, it is what it is, it has been raced and tested just like it is, specifically in India, and has evolved step by step, ignition by ignition. So what is the practical benefit of such an engine? Well, as long as you change the oil, clean the filter and decarbonize it once in a while, the engine could last a lifetime without any parts replacement or renewal, no matter how hard it is ridden, another thing is that you could tune this engine to produce unbeatable specifications while it being reliable and fuel efficient at the same time.
I've included a picture of a modified RTR 160, worked on by 10Ten racing based in Bangalore. This machine has been highly tuned to produce in excess of 25bhp and features an actual 0-100 kmph time of under 6 seconds, 5.8 to be exact. Just one example of the many thousands of Apache's tuned to the next level. The engine is pretty much stock on the outside, but on the inside, it has seen a lot of improvements, a few of which are kept as a closely guarded secret, it has won almost all of the competitions it has been entered into, its tuner,  Joel Joseph literally swears by the engine and personally claims that the quality of components used is better than bikes like the R15 and Karizma. In fact he mentioned that for tuning and racing purposes, he would any day choose the Apache engine over the R15 or Karizma, both of which have been tuned by him to almost unbelievable specs ( 165cc R15 with 23bhp and 260cc Karizma with over 30bhp). With an engine made of such strong components, it is literally bulletproof, meaning that, as long as it is run in with proper care, it could live off the race tracks for the rest of its life, being revved hard for breakfast lunch and dinner.
The Apache 150 can be upgraded to a custom 186cc set-up which will make it produce a good 20bhp. The rideability and reliability will be better than a the stock RTR 180. The engine will be completely reworked to offer class leading performance. A few examples are already doing the rounds on the roads and they have clocked more mileage than a stock engine with sure-shot reliability. The amazing aspect is the fuel efficiency which will be similar to the stock engine despite offering such levels of performance. The modifications include, a new fully tweaked head with altered port geometry, increased compression and improving combustion efficiency by optimizing the engine, custom cylinder block bore with racing high compression piston, larger CV carburettor with jetting, tuned free flow exhaust for better performance and lesser weight, ignition change, modified intake tract and a new mild profile camshaft For best results a K&N filter is also added to gain better intake velocity. This is the ultimate set-up an Apache/Fiero will ever need for maximum performance and reliability. The engine can be pushed even further but this will decrease mileage. Extreme modifications are done only to bikes tuned for racing and are not suitable for daily use.
Joel also offers tuning of stock Apache bikes, here is a listing of the changes that could be made to the Apache 150 with the already achieved results. For more information on such mods, contact Joel at joel.joseph.jazz@gmail.com.