TVS IRIDE App Launched For All TVS Bikes On Android
The TVS IRIDE application comes with a lot of features to maintain the connection between the customer and their TVS vehicles.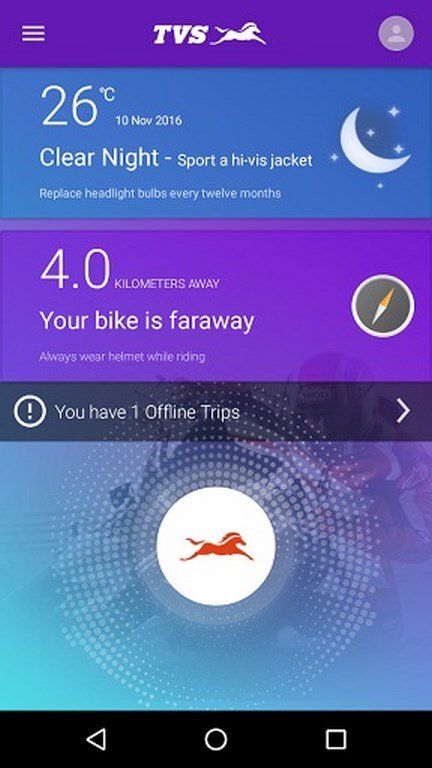 TVS has been a leading 2-wheeler brand in India with its fuel efficient and commuter friendly scooter and motorcycles. TVS has been trying to stimulate trust within its customers and keep them engaged with respect to their vehicles. Under these efforts, the company has launched an Android mobile application, named as TVS IRIDE, on 23rd November. The application will be helpful for TVS customers to avail mandatory assistance as an after-sales service on their smartphones.
The company has tried its best to make the application user friendly as it just needs the power key to be pressed thrice to launch it. There is a host of other features for maintaining connectivity with the vehicle as it tracks the movement of the bike and consists of a riding mode and an idling mode. No matter how far the vehicle has been parked from the rider, TVS IRIDE will assist the owner to navigate the location of the 2-wheeler. It will also act as a socially connecting medium as riders can share various riding activities with their mates on Facebook.
At the safety front, TVS IRIDE will act as a guide and consists of various first-aid tips for different types of injuries and will include short animations and videos too, acting as a tutor. It won't let customers forget their service dates as the service bookings can be registered and the application acts as a reminder for the day of service. Moreover, the company has provided a feedback option which would help in the betterment of their products through user opinions.
TVS IRIDE App
– The application keeps the track of the position of the vehicle
– It helps to find the exact position of parked vehicle
– The application acts as a social platform to share the rider's experiences
– It acts as a service date reminder