2017 Tata T1 Prima Truck Race At BIC – Thrilling Weekend!
We started checking out the trucks and then Tata offered all of us a taxi ride in the racing trucks on the circuit. I was super excited since even though I've driven on the BIC earlier, it was my first time in a truck, and that too a racing truck. Quickly fastened my helmet and got into the vehicle. It is super massive. I had a lady driver who drove the truck extremely well around the track and it was thrilling experiencing the corners in the truck. On the back straight, the Prima touched 140 km/hr with ease. Of course, there was a lot of body roll felt at corners but I was amazed to see how the truck was driven on the track.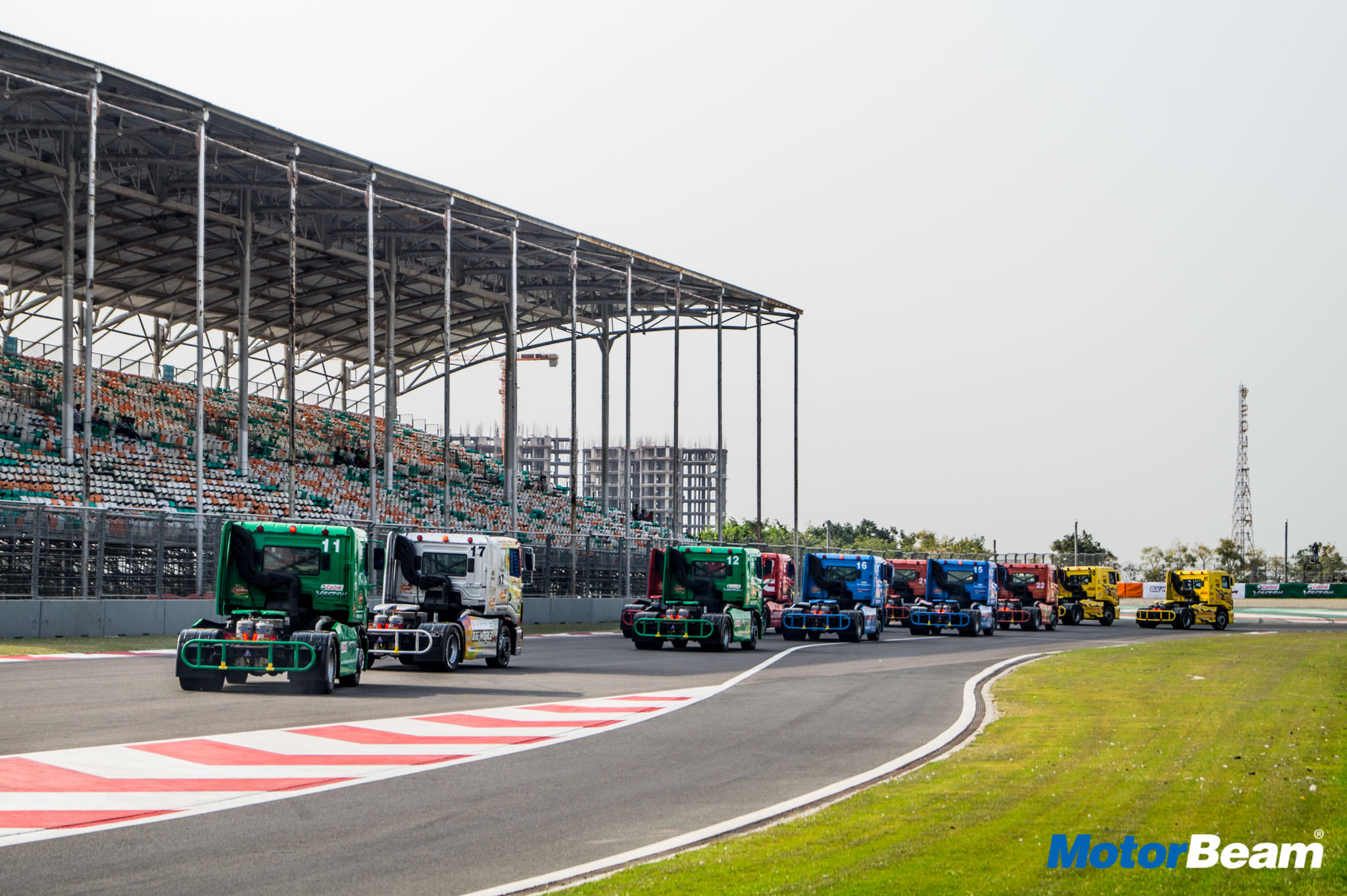 The qualifying rounds saw the racers compete for better lap times
The qualifying rounds continued happening throughout the course of the afternoon and the results were announced in the evening. The teams for the international racers were – Castrol, One World Racing, Cummins, Tata Technologies, Dealer Warriors and Dealer Daredevils. Each team had 2 trucks which makes it a total of 12 trucks. Apart from that, there were 10 trucks for the Indian drivers and 2-3 spare trucks. One of the qualifiers was a lady driver from Germany.
Another interesting part about the day was Tata unveiling the new 1000 BHP truck. It gets the same 12-litre Cummins engine that is mated to a 16-speed manual gearbox. The gearbox is actually an 8-speed unit which gets a split function. The same engine can be tuned to produce anywhere between 350-500 HP. The prototype that Tata has made produces 1040 HP and a massive 3500 Nm. The 1000 BHP truck wasn't racing this year but it should see some action in the next couple of years. However, they did do a couple of laps in it on the track and that thing is fast! It shaved off around 12 seconds (1:35.674) from the lap time of the race trucks which produce 400 BHP.
Come 19th March, Sunday and the energy at BIC was pumping. The track was full of action right from morning. The day began with some performances from dancers and then Bollywood singer Siddarth Mahadevan came and performed some of his songs. After that, there were performances by KK and a couple of other artists too. There was also a huge troupe dancing on some beats.