Bajaj Bikes That Got Discontinued In The Recent Past
Pune-based bike manufacturer Bajaj Auto may have launched a lot of new models in the past couple of years, but the company has also discontinued many others.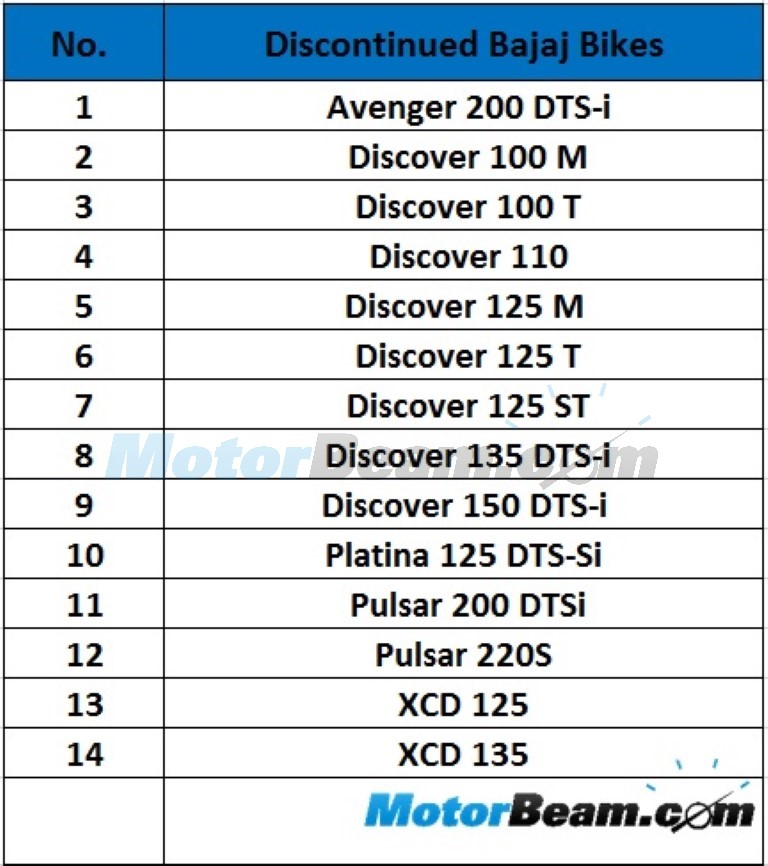 Bajaj Auto has a big chunk in the Indian motorcycle market and the company launched a slew of products this year. First up were the different models in the Pulsar range and then arrived the new Avengers. However, Bajaj has also discontinued quite a few bikes in the past couple of years, so let us talk about them over here.
The Bajaj Pulsar 200 NS is quite popular in the market, especially with the youth. The bike offers good power and sporty looks. There were various news articles floating around that the bike has been discontinued to make way for the newer Pulsar models, but the company's website still shows the 200 NS in its product line-up. The 200 NS will be discontinued soon as the AS 200 takes its place. The older Pulsar range was also very popular among the masses and while the Pulsar 135 LS, 150, 180 and 220F are still available, it is the 220S which got pulled off from our market.
The Bajaj Discover commuter bike spawned a lot of models with engines ranging from 100cc to 150cc. The bike got a lot of refreshed models too while the company also started offering a semi-faired version of the motorcycle. With so many variants of the Discover on sale, there was bound to be a lot of confusion. Bajaj then discontinued the Discover 100 M, 100 T, 110, 125 M, 125 ST, 125 T, 135 DTS-i and 150 DTS-i from the market. The current range includes only the Discover 125, Discover 150 S and Discover F.
In the past, a lot of other Bajaj bikes have also got discontinued including the Platina 125 while its 100cc model is still on sale. Bajaj had also introduced the Avenger 200 DTS-i in its previous avatar which was chopped off and only the Avenger 220 remained. The company is doing pretty good in our market though and their market share increased quite a bit after the new Pulsar models were launched. The updated Avenger models are also expected to perform very well in the market, helping the Pune based company boost its share.