Honda Navi Ownership Report By Ben (10,000 Kms)
The front tyre still looks almost new and the rear has worn out by almost 40% but grip levels are still awesome on both. Honda has also provided really good quality brake shoes. They look like they will last another 10,000 kms. The headlight gets a halogen bulb (Navi is the cheapest bike to get it) and illumination levels are extraordinary. Navi also gets a maintenance free battery and viscous air filter which lived up to their tag in all these days. Honda has got maximum bashing for the switch gear offered in its range but the Navi's unit is really great. Even today, all switches give a re-assuring feel. The key hole, fuel cap, foot rests, body plastics, grab bars, and all regularly accessed parts feel built-to-last. The chassis and engine paint quality is also good, no rust can be seen anywhere. The use of textured black plastics is a brilliant move by Honda to arrest fading in the hot sun. The under-chassis is also excellently protected by a plastic sheet.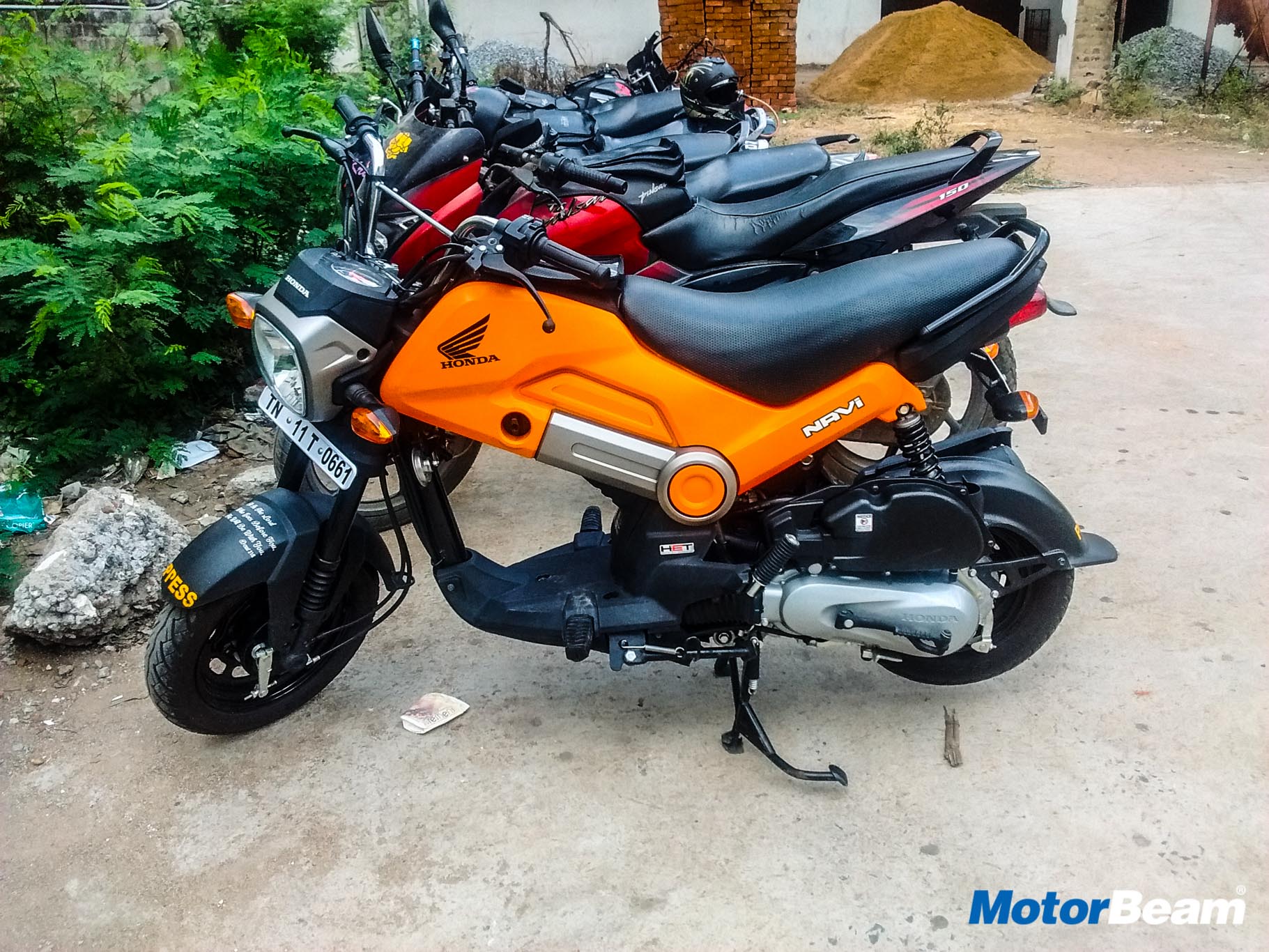 Now coming to the negatives. The first and foremost negative is the fuel tank. Its capacity is just 3.8-litres and there is no possibility of filling fuel for anything above Rs 100/-. We can fill up to 2-litres but should inform the petrol pump employee to hold the pipe much above as it will submerge leading to back flow and wastage. Essentially we will be forced to visit the petrol station almost every 80 kms. Secondly, the pillion foot rests protrude outside very much leading to hurting your legs while walking. But they also act as a crash guard covering the engine and gearbox, a compliment in a flaw! The handle bar has an ugly cross bar. Also, it cannot be changed as the clamps are literally buried inside the tank shrouds. But we can manufacture long mild steel spacers in lathe shops and install clip-on bars (I am planning to fix one). Flat street-fighter handles (like the ones on FZ and Gixxer) are almost impossible to install.
The rear tyre hugger doesn't look good and removing it will result in mud splashing even up the seat. The suspension is on the stiffer side taking a hit on the ride quality. During the first 2,000 kms, the CVT was vibrating at idle (due to the higher idling rpm) but it got rectified in service. The speedometer needle was flickering but that too was rectified in the service center. The self start delay is quite high (around one second) so we need to start the bike around one second earlier in signals. The seat is quite hard so I pasted one inch thick extra cushion and the problem got solved!